Five WW1 evening outfits.
Recently we had some of our beautiful costume collection photographed professionally as part of the 'Wor Life' project.  This uncovered some gorgeous evening dress that hasn't been seen for some time and here I'll show you five of them and explain how they fit into the wider narrative of fashions before, during and after WW1.
1910-1914 – TWCMS : K1841
This dress dates from just before the war and shows nicely the high waistline that was popular until the 1920's.  The dress is made from silk satin and the overdress is chiffon.
1914-1915 – TWCMS : J8115
This dress from 1914-1915 is made of machine lace and would have been worn over a coloured under dress.  It shows off some of the decorative details that were used at this time, sequins, beads and fringes.
1916 (c) – TWCMS : K1760
This garment , dating from around 1916 and bought in Newcastle very own Fenwicks, is actually two pieces, a skirt and bodice.  The back of the dress shows off two elements that were popular throughout this period, tassels and trains, although trains decreased in popularity during the war years.
1918 – TWCMS : 3429
This evening coat, which dates from 1918, is made from synthetic satin which became much more widely used at the beginning of the 20th Century.
1917-1923 – TWCMS : J2366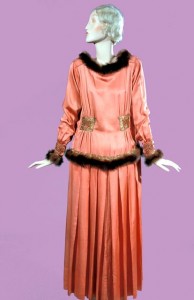 This dress, which dates from 1917-1923, demonstrates the dropped waistline and shorter length that came into fashion after the war.  Fur edging on the neck and sleeves was also popular at this time as well as metallic embroidery, which was used throughout the 1920's.