I am a Newcastle University student working towards a MA in Art Museum and Gallery Studies: Curatorship.As part of my studies, I am on an eight-week work placement at South Shields Museum and Art Gallery, where I will be developing two art exhibitions using their art collection. These exhibitions are scheduled to be displayed sometime in 2015.
The first thing I needed to do was to familiarise myself with South Shields' collection by spending some time trawling through the works in its store. The time spent doing this really helped me to begin to identify the collection's strengths and allowed me to form some exhibition ideas.
Whilst I was digging around the store, I came across a box labelled 'George Horton'. Upon opening the box I was impressed with the quality of his etchings. I was particularly drawn by the strong contrasts of black and white, and variety of mark in "Winter and Thaw".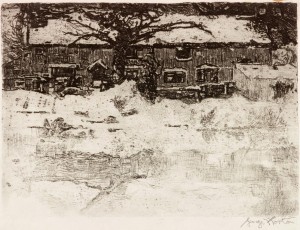 TWCMS: G5753 Winter and Thaw by George Horton from the South Shields Museum and Art Gallery collection.
Prior to this, like many people, I did not recognise Horton's name or his work. He was a North Shields born artist, who spent a lot of his life living in South Shields. In the early 1900s, he was considered by many to be the most renowned artist of the Northeast, in spite of never receiving a single formal art lesson. However due to the fickle nature of the art world and watercolours of coastal scenes becoming considered 'unfashionable' here in England; as a result his work was largely ignored and then forgotten.
Horton was also an awesome watercolourist.
In Holland, where he made many sketching trips, he refined his technique of combining bursts of colour with large areas of grey which almost became his trademark. Horton could achieve a greater variety in his greys than many artists could across their whole palette.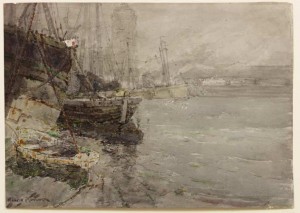 TWCMS: G5767 North Shields Fish Quay by George Horton from the South Shields Museum and Art Gallery collection.
Horton had a fascinating life. By using information from research materials from South Shields, North Shields Central Library and Laing Art Gallery I have managed to form a detailed idea of Horton, both as a man and an artist. I hope to be able to communicate this through the exhibition's interpretation and to put together something which will do him justice.