The second Exhibition Explorers session took place earlier this month. We were delighted that so many of the families returned with their completed 'Family Adventure' page, sharing their experience of visiting a museum or gallery since the previous session. You can read all about what they discovered and the things that surprised them, here. The families' discoveries will not only help create a record of the children's early cultural experiences, but also help build up ideas and recommedations of museums and galleries to visit with young children, which families can dip into for inspiration: watch this space!
There were so many magical moments during the session – here are a few that caught my eye and made me smile, accompanied by Mark Savage's wonderful photos:
Children make great exhibition tour guides:
We began the session by giving each child a page with pictures of 6 colourful cats with corresponding coloured stickers – when they spotted some red in an artwork, they should stick the red nose onto the red cat: a sort of artwork bingo!
Although some children preferred chewing the card, or sticking all the stickers onto themselves, this was fine; they were enjoying the gallery as a play space which is also an extremely valuable part of the project! The children who used the bingo card to spot colours in the artwork were fascinating to observe though: they excitedly pointed out discoveries to their grown ups, often noticing unexpected details because of their height in relation to the artwork.
This little one made her way around the whole gallery, giving Mum an animated guided tour, and sharing her observations of not only the colours, but the shapes, patterns and hidden details in the abstract paintings. It was wonderful to see that children really do take notice of the artworks and have opinions, preferences and observations about what they see. Clearly the Shipley is not alone in noticing this; you can read about The Whitworth's exhibition that was curated by toddlers in my previous blog post, here.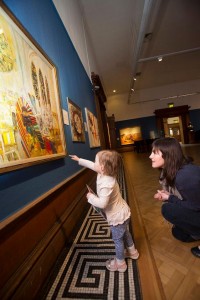 Simple tools can help children look and lead:
We offered the children a range of tools to encourage looking, such as magnifying glasses, decorative frames, and transparent coloured paddles. These not only got children looking closely at the artworks, but got them taking notice of everything around them – toys, crayons, floor tiles, skirting boards, each other's faces, and so on!
Equipped with these simple tools, the children were elevated to 'expert' or 'detective', and empowered to lead the visit: grown ups instinctively allowed themselves to be led, and children stepped forward as leaders, steering their grown ups towards whatever aspect of the gallery visit most interested them.
Sharing our experiences is important:
During the project, families have been given special Explorer Kits with paper and pens. They're encouraged to embark on a 'Family Adventure' to a museum or gallery of their choice, and share their experiences and recommendations.
At this session we enjoyed a storytime with a difference, showcasing each family's page. You can read about what the families discovered here. It was wonderful to observe the children avidly listening to which places had been explored this month, and beaming with pride and recognition when their page got a mention. Sharing our experiences during this project is important for so many reasons: to help it to be a really valuable piece of research into Early Years engagement; to enable families to share tips and recommendations; to help families develop as habitual museum and gallery goers (not just to our venue); and to recognise the journey of discovery the children are embarking on and the generosity with which they share it.
Being an Exhibition Explorer is a whole-body experience:
Everyone knows toddlers don't sit still for long! Whilst their minds were busy trying out new skills in art activities, and observing details in the artworks, their bodies needed to keep active too! We incorporated this need to keep moving into the session, by offering a range of push- and pull-along toys with which to look around the exhibition. We also had a very lively storytime and songtime with the lycra.
By general consensus, the children all decided that being under the lycra whilst it was waved overhead was the most exciting, so we were led by them, as you can see here:
Seeing things in a different way:
When an exhibition is particularly engaging, it makes you think and see things in a different way. By extension, we felt it was important to present opportunities for the children to see themselves and the artwork in new and surprising ways.
It was great to see the same piece of equipment (the mirrored den) being used in different ways, as children chose to travel through it, get up close to their reflection, lie down, or look at the artworks around them from a different angle. This fits very well with the importance of open ended 'invitations to play' which I blogged about in a previous post, here.
We really are learning all the time from our Early Years audiences, and can't wait to see the project evolve further!