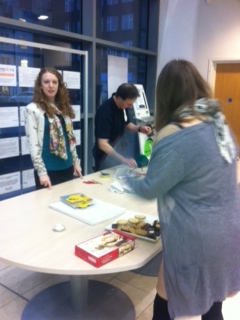 Just before Christmas, some Laing staff were out and about, meeting members of the public. We were persuading people to sample some Christmas treats – mince pies and chocolate biscuits. We did have an ulterior motive – we were hoping to get people to tell us what they were interested in and the kind of events they would like to see in the Laing Art Gallery.
We even brought our own Christmas tree, and hung it with decorations recording the things people told us. Joy and Zoe from our Learning team are posing with the tree in this photo, alongside Richard from our Front of House team.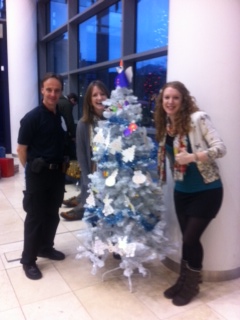 Curatorial staff also came along to find out what people had to say. This is part of Our Museum initiative, which involves all the museums and galleries in the museum service. Our first event was at the City Library, and we'll be out meeting more people to get their ideas at another event soon.
One of the themes that came out of our Christmas event was activities for families and children. We'll certainly be keeping up our fun family-themed events and exhibition activities for kids. (There are also many short classes for adults linked to our temporary exhibition programmes, as well as talks.)
If you have comments about the events we are already doing or ideas for the future, we would love to hear from you. You can contact us by email – info@laingartgallery.co.uk or you can leave a comment on this blog.