Here in the Volunteering team at Tyne and Wear Archives and Museums a new project is underway to inspire young people (aged 19-25) to become cultural ambassadors in the region. The project mygames (powered by v) is inspired by the Olympic and Paralympic games 2012. Young people have just started to approach me wanting to join a steering group that will be the voice of the project. (See vinspired page and Tyne & Wear Archives & Museums website).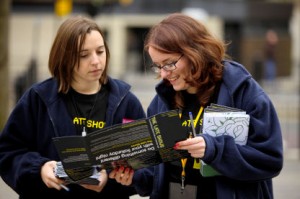 I was really curious to know what would draw young people to give up their time and join this volunteering project. I thought I'd share some of their thoughts…
One volunteer told me,
I am fascinated by history, how things work, how things used to work and how things became the way they are.
Another reason was,
I am looking for a new and challenging opportunity…and an insight in to how they (Museums) are run.
This is a really encouraging start! It's going to be fantastic to build on these motivations and start to see the young people gain a real voice and presence in the organisation.
Watch this space to see how they get on…