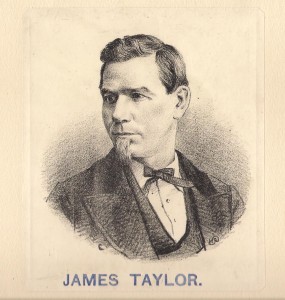 For my first blog post, here's an interesting puzzle that someone out there might have an answer for. Wading through boxes of prints at the Laing Art Gallery with John Millard, looking for portraits by North-East Victorian artist Ralph Hedley, I came across two pictures. Both are signed by Hedley, with his trademark "R.H." monogram. The first portrait on the left here, the gentleman with a goatee beard, intrigued me right away: the clear late 19th century American influence of his dress – ribbon tie, Confederate style double-breasted suit- has echoes of General Custer,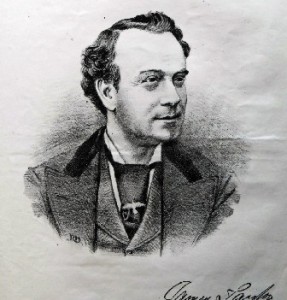 Buffalo Bill or a Barnum and Bailey style showman. Incidentally, the portrait is reproduced back to front, (look at the R.H. monogram). The name James Taylor is stamped on it in bold capitals. The second portrait below it, also with Hedley's monogram, shows a man in similar dress, but no goatee and a wide cravat instead of the ribbon tie. And this portrait is signed "James Taylor" at the bottom right
So, in the time honoured tradition of Crimewatch UK, the question is begged, firstly, are they both the same man, drawn by Hedley at different points in his life? And more to the point, who was James Taylor? (Google is no help, obviously- just brings up loads of You Tube music videos of Carole King's ex-husband…).  Except it has led me on a brief foray into Tyneside rowing history: there was a James Taylor, a Tyneside rower, who coached for the Tyne Rowing Club in the 1860s/70s and was cox for the renowned Tyne Champion Four Crew which included legendary local rower James Renforth. I believe Taylor accompanied the crew on at least one of two important rowing challenges in Canada, the latter which led to Renforth's tragic death during a race in St John, New Brunswick. Perhaps the Canadian visit influenced Taylor's dress style? The portraits were presumably drawn back here in the Newcastle area.
If anyone can shed any light on either of these portraits, please let me know. Particularly if you have any knowledge of local rowing history: that's providing my hunch is not a complete red herring.