I have just been helping to choose some objects from the fort for an exhibition celebrating 150 years of the Museum in South Shields, and had to check up a bit on the history of one of the objects, which is a fragment of statue.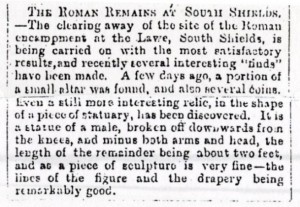 Thanks to a newspaper report at the time, we know it was discovered just before 11 July 1881. This is some six years after the end of the formal excavations that took place after the land was sold off to developers, so it was found by the workmen building the houses that ended up covering much of the site. We are very lucky that the local newspapers were interested in the discoveries and often reported on them, and even more lucky that some people kept the relevant cuttings! And there were lots of newspapers back then – not just the Shields Gazette and Daily Telegraph (to give it its full name) but the Shields Daily News and the Shields Dispatch (three newspapers just in South Shields!), as well as the Newcastle Daily Chronicle, Newcastle Daily Journal, and Tyne Mercury.
The cuttings contain some fascinating little snippets, like the 'resident of South Shields, who should from his calling and position should have been the first to aid the [excavation] committee in their work… deliberately mutilated two of the largest and most interesting stones which have been lifted from the forum [headquarters building]…In spite of warnings … this person broke off large pieces of the stone 'to see what kind of stones they are'' (Gazette, 20 April 1875), or the 'impudent forgeries' of early Christian items sold to collectors as genuine finds from the site. There is also the report on the council meeting discussing the gift of land that would make up the later Roman Remains Park, where one of the council members said that 'there were now no Roman Remains whatever; they had all been taken away long since… It was simply a heap of old stones, and to spend money on them would be a perfect waste of the public money' (Gazette, 3 July 1879).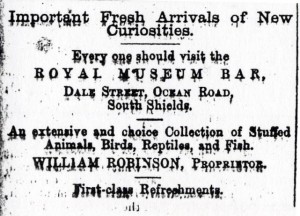 Some of the newspaper reports still have the adverts and other news reports round them, which are just as interesting to read. Alongside adverts for a dentist who has removed 50,000 teeth in 30 years and the soap that is 'the Delight and Wonder of the Domestic Household', is one for the 'Royal Museum Bar', which rather caught my eye.