When the Tube began, we had no idea that it would become such an important part of our lives.  We were a bunch of Geordies who were suddenly flying around the world and meeting the most amazing people.
One of the more memorable filming trips I went on happen in not some far flung exotic destination but in Birmingham!
We were going to do an interview with Grace Jones.  I cannot remember the exact location in Birmingham but that is not important.  As a huge fan of Grace Jones, I had even had my hair cut into a 'flat top' that she was known for having.
Arriving at the location we set up and waiting for Grace to arrive.  We were not to be disappointed.  When Grace exited the car, this towering Amazon stood before us and what an impact!  She had on a black cap covering her head and face, Micky Mouse Ears and huge sunglasses.
She then purred, 'I haven't had time to do my eyes, you will have to concentrate on my mouth' which was a slash of red lipstick.
So being the Tube, that is what we did!  Most of the interview was shot in Big Close Up and we concentrated on her mouth, amazing!
After the shoot when we were de-rigging, Grace came over to me and patted my head and said 'Oh my, your hair is just like mine'  I have to tell you that photograph is 'some selfie'.
Another big memory for me was being in New York and filming a night out in New York.
We started at a club called 'Danceteria' which was on several floors, the top floor was having a retrospective for 'Klaus Nomi'.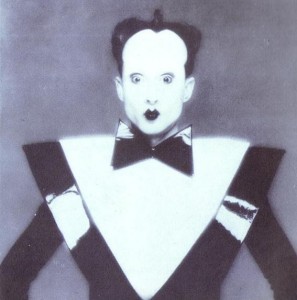 Klaus Nomi was a German countertenor noted for his wide vocal range and an unusual, otherworldly stage persona.
Nomi was known for his bizarrely visionary theatrical live performances, heavy make-up, unusual costumes, and a highly stylized signature hairdo which flaunted a receding hairline. Wikipedia
Moving to a lower floor in the club, we ended up in a bar that played Country Music and the bar staff were Drag Queens in Cow Girl Outfits, which was a new experience for a TV crew from Newcastle.
We then travelled to The Roxy which had began as a roller skating rink and roller disco.
Beginning in the early 1980s, the owners began hosting dance nights. Referred to by many as the "Studio 54 of roller rinks," these parties thrived for several years. Then, as the popularity of skating began to fade, the space was revamped into a dance club in 1982.
The Roxy was where we got to see 'Vogue-ing' and Breakdancing for the very first time.  While we were filming Rod Stewart came in and said hello to us.
However nothing had prepared us for 'Paradise Garage' which was our final stop of the night.
The club's name derives from its origins as a parking garage. The Paradise Garage's business model was largely inspired by David Mancuso's parties at The Loft: no liquor was served, there were no sales of food or beverages, and the club was not open to the general public.
 The unique and eclectic style of disco and dance music played at the Garage gave rise to the descriptive terms "New York house", "garage", "garage style", and "garage classic" (to describe a record that was made famous at or is associated with the Paradise Garage). When the term "garage music" is used in reference to the Paradise Garage, it does not exclusively mean house music, although certain house track may be considered to be garage classics. Wikipedia.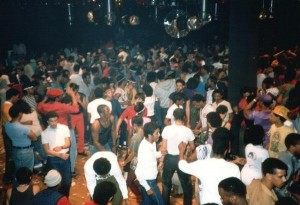 The Club on the night we were there was popular with the gay crowd, telling the guys I would go and get everyone a drink, I marched to the bar and asked for 13 pints of what ever they had!  I then learnt that they did not sell alcohol and could only offer me fruit juice, apples or pretzels.
Try telling that to a bunch of Geordies who had been up all night, filming in New York.
Great memories!
Michael worked in television for over 30 years as a Director and Producer and was involved with The TUBE from the very beginning as a Production Assistant during filming and then subsequently directing part of series 4.
He is now retired from television and heavily involved in charity work. As well as being on the committee for the Make A Wish Foundation, he is an Ambassador and mentor for Northumbria Coalition Against Crime, Chairman of Newcastle East Sea Cadets and Junior Vice President of Ponteland Rotary.
Michael became involved with Discovery Museum when he joined three ex colleagues from Tyne Tees Television who also worked on the TUBE when they visited the museum to see the TUBE neon logo that was in storage. From that visit, the idea of the TUBE exhibition came into being.
An exhibition of items relating to the Tube, including the neon Tube sign, is on show at Discovery Museum until 30 June. More details.