For my eight week placement here at South Shields museum I will am working with the art collection to curate two exhibitions which will be shown in their stairwell gallery. A lot of my time here has been spent in the museum's art store familiarising myself with their collection.
Whilst 'poking' around in the art store, I came across this watercolour by the North Shields artist Albert Ernest Black, titled 'The 'Scotia' Old and New'. The Scotia is a pub in South Shields on Ocean road, a stone's throw away from South Shields museum. I walk past it everyday on my way to and from the museum. Black's painting shows the pub as it looked in 1901.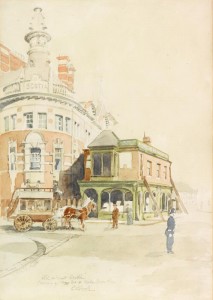 'The 'Scotia' Old and New' by Albert Ernest Black
TWCMS: K3952 from the South Shields Museum and Art Gallery collection
The new Scotia, shown here on the left, is the part which still stands today, virtually unchanged. However the older building on the right, the 'Old Scotia, was pulled down for the widening of road, as can be seen in the photograph below.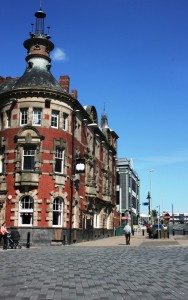 A photo I took on a nice sunny day of the present day 'Scotia'.
Now when I pass the Scotia I always try to imagine how it used to look. Prior to this placement, my interest in art was based largely on the visual and conceptual, I had very little interest in art objects as social historical records. After spending time working with this and other works of the South Shields museum's art collection, which centres largely on its ties to local history and people, I have learnt to appreciate this aspect of art much more. This painting will be featured along side other works by Black and as well other artists from the South Shields collection for one of the exhibitions I am curating which is due to be on display sometime in 2015. Through the artworks in this exhibition I aim to tell some of the story of the changing face of South Shields around the turn of the 20th century.