My name is Ashleigh Jackson. I am a History undergraduate student from Edinburgh and I'm currently on a summer placement with the Natural History Society of Northumbria in their archives at the Great North Museum: Hancock.
July 2016 marks the centenary of the Battle of the Somme, the bloodiest event of the First World War and one of the most fatal conflicts in history. The Society possesses a number of connections to the Great War, as revealed through its archive collections.
A remarkable connection to the Society is Katherine Milburn Hancock (1893-1976), the great-niece of John and Albany Hancock, and a later donor to the Museum. The Society holds archives relating to Katherine, or Kitty as she was known by family and friends, and her work during the First World War. Kitty volunteered for the French Red Cross in 1915, along with her sister Marjorie, where she drove ambulances in the Hackett-Lowther Unit.
Notably, the Hancock sisters were both awarded the Croix de Guerre medal (transl. Cross of War). The sisters were decorated with this medal for their services in the Somme district in 1917, in the aftermath of the Battle of the Somme which had concluded in November 1916.
After the war the sisters moved to Beke and later, Billingshurst in West Sussex where together they managed a farm. Before her death, Kitty visited the Museum opened by her great uncles, and in 1976 donated £20,000 toward the renovation of the Bird Room in the old Hancock Museum.
"English Sisters' Pluck"
The newspaper cutting below indicates the recognition received by Kitty and Marjorie Hancock. It highlights how the Society's archive collections can usefully provide information about individuals, and reveal connections to the war. This source tells us that the sisters were part of the Hackett-Lowther unit which was ordered to work in the Somme district to aid French soldiers. The Hancock sisters visited shelled villages and assisted with the evacuation of civilians as the war raged on.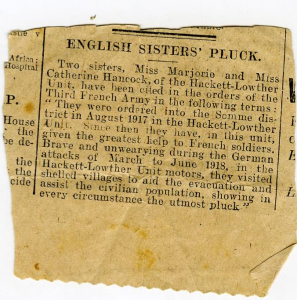 The French newspaper cutting below further highlights the recognition given to the Hancock sisters for their work in the Somme, indicating the appreciation from the French towards the English sisters.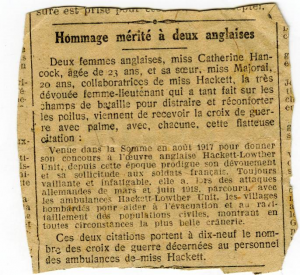 Decorations
The Natural History Society of Northumbria holds the two Croix de Guerre medals which were issued to Kitty and Marjorie after the war. The Croix de Guerre was a distinguished award bestowed by the French government upon those who had carried out heroic acts.  This further highlights the important connections between the Society, the Museum and the First World War.
As well as the Croix de Guerre, both sisters were awarded the British War Medal as well as the Victory Medal. These accolades are all stored in the archives of the Natural History Society of Northumbria.