Another milestone in the Wagon Refurbishment Project has been reached with the delivery of the first exhibit for the displays, other than the wagons themselves of course. It is also quite a big exhibit….a 1963 Rover P4 model 110 that has been acquired on loan from the National Motor Museum, Beaulieu,  in Hampshire. It was delivered by a specialist car transporter company in an enclosed car transporter early on Friday 23 September 2011 and was received by a small team of curatorial and conservation staff, as well as front of house staff and large object handling specialists from Dowse Cranes, to ensure that it was received and put in its new home safely. The operation of receiving, checking and maneuvering it into place took just under two hours.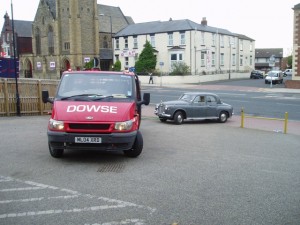 The car is typical of those carried on British Railways Motorail services in wagons like our Covered Carriage Truck during the late 1950s and 1960s. As such it is a great object to put on show in the displays.
Made in Solihull, near Birmingham, Rovers were in their time top-of-the-range family cars built to high standards of quality and luxury. They became known as 'the poor man's Rolls-Royce'. This model has a 2.6 litre engine and a top speed of just over 100 mph. 
It became part of the National Motor Museum's collection in 2005, having had only one owner, who lived on the Isle of White, from new.