If you're a regular reader of this blog (as if) you already know about Kurt Schwitters and his Merz Barn Wall sculpture, but if you're new to the Hatton then I can sum it all up in just one word:
KurtSchwitterswasaGermanavantgardeartistwhofledNaziGermanyforBritainwherehe
wasbrieflyimprisonedthenafterWWIImovedtotheLakeDistrictwherehebeganworkon
theMerzBarnbutdiedin1948shortlyafterstartinganditremaineduntoucheduntil
NewcastleUniversitybroughtittotheHattonin1965.
However you may be less familiar with the following nuggets of knowledge:
It's heavy, man
Schwitters created his large sculpture on the interior wall of a small dry-stone barn. A dry-stone building is made from just loose stones, a problem when it came to removing both sculpture and wall in one piece. To consolidate everything into one mass, the Hatton's removal team built a steel frame behind the wall then filled it with concrete to embed all the stones. While successful, it did leave them on a hillside, in the Lake District, 150 yards from the road, with a lump of slate, steel and concrete weighing twenty-five tons – 'Hang on a minute, lads, I've got a great idea..'.
Here's one I prepared before the programme started
Schwitters had moved to Norway in 1937 to escape increasing Nazi harassment but when Germany invaded in 1940, he fled to Scotland, where he was immediately arrested as an enemy alien. While in internment camp he continued to make new works, and his practice of creating art with whatever materials were to hand – his philosophy of 'Merz' – proved invaluable. Paints were improvised using oil from sardine tins, sculptures formed from leftover porridge and for a paintbrush Schwitters persuaded a fellow internee to donate some (perhaps all) of his presumably very bushy eyebrows.
Cash in the attic?
After the War, Schwitters and his partner, Edith Thomas, moved to Ambleside in the Lake District. He sold the occasional landscape, still-life or portrait, but there was little interest among the locals for the many collages he produced and he struggled financially. On occasion he resorted to asking for bread from the rear of the local bakery and a friend recalled Schwitters and Edith debating whether they could afford to buy an apple. In 2014 a Schwitters collage, Ja – Was? – Bild, sold at Christie's for £12,400,000.
The Talented Mr Bickerstaff
To boost his meagre earnings while living in the Lake District, Schwitters entered the Ambleside Flower Painting Competition, but a professional artist entering a competition essentially for amateurs was, well, not really cricket. So First Prize was won by 'Mrs Vartis' for her roses and Second Prize by 'Mr Bickerstaff' for his chrysanthemums.
The pen is mightier than the sword (or at least the knife)

George Melly, jazz singer, writer and critic, died in 2007 after a life that embraced every tenet of the term 'Bohemian'. The only predictable aspect of George was his unpredictability, but on one occasion it proved his salvation. Emerging from a Manchester jazz club, Melly was confronted by two muggers who threatened him with a knife. Unwilling to give up his wallet and watch, George suddenly launched into a recital of Schwitters' abstract sound poem Ursonate. So intimidated were the thieves that they ran off. The wonderful Chuwumbawumba featured the story in their song Ratatatay and you can listen to Schwitters himself reciting the poem here.
True Brit
Following his arrival in Britain, Schwitters heard about the concentration camps. He renounced his status as a German national and never spoke the language again. He also applied for British citizenship. It arrived in the post the day after he died.
Happy Birthday Kurt
By sheer coincidence, the Merz Barn Wall was installed into the Hatton Gallery on 20 June 1966, what would have been Schwitters' 79th birthday.
What's it all about?
When asked what the Merz Barn 'meant', Schwitters replied 'It's just form and colour, just form and colour.'
Python Hero
Just before his death in 1948, Schwitters declared 'No-one knows who I am but in sixty years they will' – but he hadn't reckoned on Monty Python. In the very first episode of Flying Circus in October 1969, they mentioned Schwitters in a sketch about famous artists competing in a cycle road race: 'And right at the back of this group, our very own Kurt Schwitters!' You can see the clip here.

He liked Guinea Pigs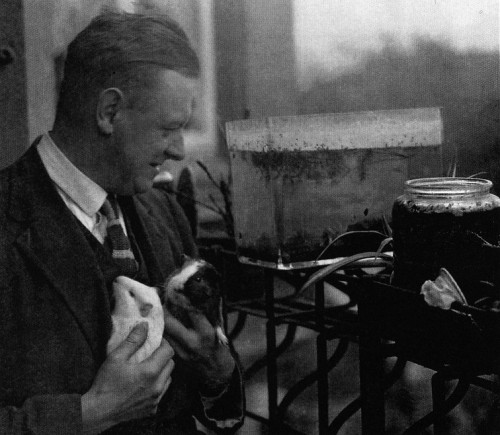 Aww…
'Revitalising The Hatton Gallery' is funded by Heritage Lottery Fund.