Dianne, from our Front of House staff, is admiring her favourite painting in the exhibition.
She says, "I love it because it's a picture of a father's pride and hope for the future. And the boy does look like his father, Henry VIII, in wonderful red velvet clothes. It's so well painted, it's fantastic." (Sadly, Henry's hopes were dashed, as the prince died young and never became king.)
Morgan's favourite picture is very different. He admires the atmosphere of this painting – "the light shining through the man's beard is really great." (In case you were wondering, the light is shining from a hidden lamp on the table – you can just see the lamp's copper base.)
In the picture, the couple's wayward daughter has suddenly come back into their lives – but are they horrified or pleased to see her again in her extravagant clothes? Come along and see what you think the painter is showing.
However, you haven't got very long to select your favourite painting, because the last day of the Family Matters exhibition is September 2nd. There's more about the exhibition here, and activities here.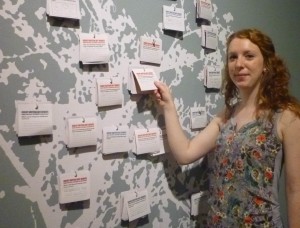 Joy's adding her card to the exhibition family tree. You're invited to write down your thoughts about your favourite childhood memories or special things that you've inherited from your family. Granny's necklace, and a big nose feature among the things visitors have got from their family. What would be yours?
Cards and pencils for the family tree activity are on the long cream-coloured table in this gallery view. You can use the computers on the table to look up your own family history.
Garry admires the strong family relationship in the midst of sadness and hardship shown in this picture. (The lender's website for the picture is here.)
The exhibition has something for everyone – historical and modern paintings and 3D artworks.
(If you'd like to explore Jonathan Leaman's picture further, there's details here.)
The creamy paint and virtuoso brushwork of Sargent's painting gets Jill's vote. The three Vickers sisters of Sheffield were fortunate enough to inherit beauty and wealth.  (If you'd like to see more on this picture, there's details here.)
You can see the results of our family photo project showing in the cafe at the Laing.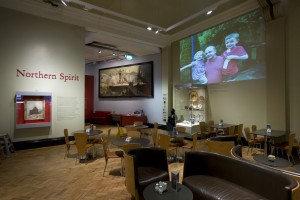 Family activities are continuing at the Gallery during the summer holiday. Here's some photos from the activities that have already taken place. The activities now on offer will be different from these, but just as much fun.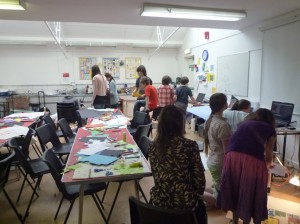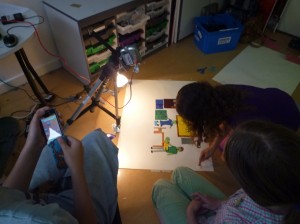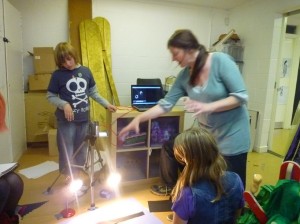 Hope to see you soon!