Not of the ghostly kind. No, this is the name of our collection of objects preserved in a "spirit" form. Spirit preserves soft tissue and delicate internal structures, making it possible for all types of research to be done.
We have a large range of historic and more recent spirited specimens, and together they comprise a window to both the past and future. Cutting-edge research can use the specimens to track evolution changes over time. In our varied collection we have examples of sea-life, insects, plants, mammals, birds and reptiles and more…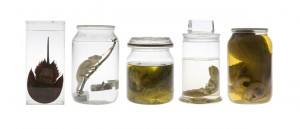 They may not always be the prettiest, but they are an important natural history resource. These jars were part of a recent project to catalogue the collection as the moved into a brand new store in the GNM Learning and Resource Centre at Discovery Museum.