I am a MA Art Museum and Gallery Studies student at Newcastle University, as part of my degree I am completing an eight week work placement at South Shields Museum.
It is coming up to the last week of my placement now which is a little bit sad as it's been such great experience! With my role in the development of the two art exhibitions now nearing completion, I have a fair bit of free time on my hands. So recently I have been helping my supervisor Adam Bell who is the Assistant Keeper of Social History for TWAM, in preparation for the World War One exhibition called 'Home for Heroes: South Tyneside in the First World War' that he is curating. The exhibition is due to open 10th July at South Shields Museum. The exhibition explores the key role played by the people of South Tyneside during the war effort, placing particular emphasis on the stories of three recipients of the Victoria Cross – Henry Howey Robson of South Shields, Thomas Young of Boldon Colliery and Joseph Henry Collin of Jarrow.
I was asked to do research for the development of a timeline for the exhibition showing the key events which happened in South Tyneside in relation to the war.
With my background and primary interest in art, my knowledge of WW1 is somewhat 'sketchy', and as a self-confessed 'southerner' my knowledge of the history of the Northeast is even worse. I saw this as an opportunity to improve myself in both these areas, and it has been really interesting and exciting (I probably should get out more).
Adam had a list of information and dates that he wanted me to track down, which included the dates and names of ships which were built in the Northeast during the WW1 (tracking these down was fun as a process but would probably would not make for the most engaging read apart even for the biggest of shipping nuts).
He also wanted me to include in the timeline, when King George V visited South Tyneside. With a quick bit of 'googling' I stumbled across this great photograph taken of his visit.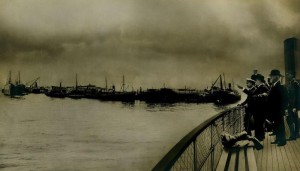 This photo was featured as part of this Flickr set of photos of royal visits to the region's shipyards which was uploaded by TWAM to celebrate Prince William's visit to Sunderland and South Tyneside on the 22nd November 2013. It shows King George V passing the shipyard of John Readhead & Sons Ltd in South Shields during his visit to the North East Coast on 16 June 1917.
Through further intense, serious academic research (Google) I came across a number of articles about the Munitionettes' Cup, or to give its official title Tyne Wear & Tees Alfred Wood Munition Girls Cup. With most of the men in the Northeast away involved in the war effort the football's associations struggled to find enough players to form a league. This lead to the formation of women's teams which consisted of munitions workers. Perhaps the most famous of these players was Bella Raey, a coal miner's daughter who played for the Northumberland team Blyth Spartan Munitionettes. In one season Blyth won all thirty of its games, with help in no small part from the 130 goals scored by Raey.
The sport was a big success, attracting as many as 10,000 spectators which for the time was a significant number of people. However in 1921 the Football Association officially banned women's football, this ban would remain in place until the 1970s when it would be eventually lifted. Because of the ban Raey had to return to working the fields which she did into her mid-late sixties.
Again, just to reiterate, 'Home for Heroes: South Tyneside in the First World War' is due to be on display at South Shields Museum on the 10th July.