Here is a photograph of a slipper table that we have in the museum collection.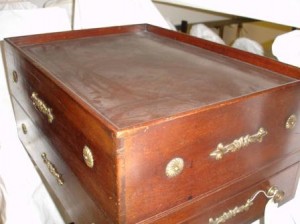 I didn't know anything about slipper tables until this week when I got an email from a postgraduate student in Dublin. She is researching the largely undocumented shoemaking craze which swept through fashionable society in the late eighteenth and early nineteenth centuries.
Noreen had found small hobby toolkits but had never heard of a slipper table until she got in touch with us. She was excited to that there is a piece of furniture was dedicated to the hobby because it suggests that it was more than a passing fad for the owner.
I ventured up a ladder in the store to look in the drawers of the table and have taken lots of photographs of the tools and sent them on to Noreen.  
My curiosity was piqued and I asked Noreen to tell me more. She sent me this information. 'Shoemaking became popular as a pastime among women of all classes in the late eighteenth and early nineteenth centuries. This was partly due to the simplification of footwear – namely the disappearance of heels in neoclassical fashion. Toolkits were made to meet the demand for DIY shoemaking and some contained beautifully made tools. The activity was derided by some for being unfeminine and an unsuitable diversion for a well bred lady.'
Noreen is now investigating the names stamped into the wooden shoe lasts and thanks to the photographs she has a better understanding of how the tools were used.
For my part I loved seeing the names written in ink on the wooden lasts and I am hoping Noreen will keep me updated with information she finds out about the shoemaking craze.