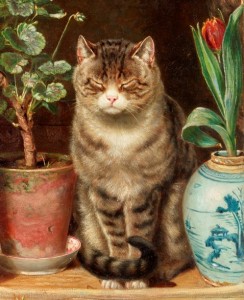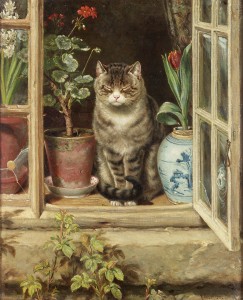 Affectionately known as Ralph's Cat, this picture is actually titled Blinking in the Sun. It was painted in 1881 by Ralph Hedley, who specialised in scenes of North East life. It's on show at the children's area at the Laing Art Gallery at the moment with some other animal pictures.
This tabby has that lazy, loving-the-sunshine expression on its face so typical of cats relaxing in the warmest spot they can find. It looks like a well-loved pet, with sleek fur.
The cottage is old, with a rough stone windowsill and cracked glass. But the flowers show that the cat's owner loves beautiful things. There's a geranium in an old earthenware pot – such a popular cottage plant as it's so easy to grow. It's partnered by yellow narcissi and red tulips.
By the way, there are cards and posters of this contented moggy on sale in the Gallery shop.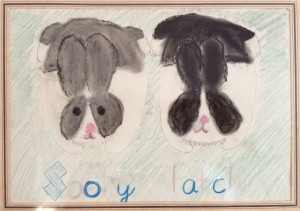 For all kids – why not drop into the Gallery to draw your pets, and hang them up on our display lines? This is my daughter's portrait of the rabbits she had when she was young. What do your pets look like?
Here's images of the other pictures in this small display. They will be on show over the winter.
John Frederick Slater (1857–1937), Two Horses and a Caravan
John Byam Liston Shaw 1872–1919), The Fool Who Would Please Every Man
S. Tolidze ( late 19th century), Icebreaker 'Ermack
Glynis Mills, In the Swim
Elizabeth Frink (1930-1993), Man and Horse
Paula Rego (1933- ), Girl with Little Man and Dog