I was in Helmsley recently and missed the chance to visit the site of two unusual paintings by Ralph Hedley.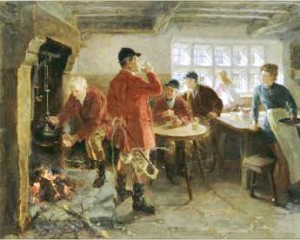 Spout House/the old Sun Inn is on the B1257 as it runs from Helmsley to Stokesley, across the North York Moors National Park. There are not many houses up there, but Spout House has been there for hundreds of years. Built in the 1500s as a farm house, it became the Sun Inn in 1714, and closed in 1914 when it was replaced by the new Sun Inn built close by.
The interior of Spout House/ the old Sun Inn, is featured in Hedley's Hunting morn (1895), and the exterior is in his Counting the game (1902). Both pictures show rural huntsmen, and both were arranged, possibly commissioned, by Allan Bowes Wilson of Hutton Rudby.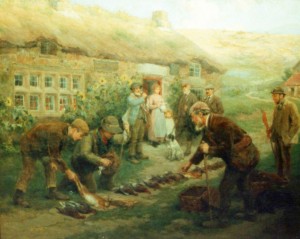 A letter of 12 September 1893, from Allan Bowes Wilson, arranged for Ralph Hedley to go to the old Sun Inn to paint members of the Bilsdale hunt. Wilson said Hedley would be staying 4 miles away at 'Chop Yat Hostel', and invited him to bring his bicycle.
'Chop Yat' (now called Chop Gate) means 'pedlars' way'. The word 'chop' is said to derive from an Old Norse word 'ceap' or 'kaup' for pedlar or chapman. 'Yat' is a local dialect word for gate or route.
Years after he arranged for Hedley to paint Hunting morn, Allan Bowes Wilson commissioned Counting the game for £50. It shows the results of a day's shooting laid on the ground outside the old Sun Inn. The window that features in Hunting morn is seen from the outside in Counting the game, and is surrounded by sun-flowers.
Allan Bowes Wilson ran a sailcloth factory in Hutton Rudby, founded by his father George Wilson. Bales of his sailcloth appear in the bottom right hand corner of Ralph Hedley's painting The sail loft (1908) which is on show in the Northern Spirit display at the Laing Art Gallery, Newcastle. One of the bales in the picture is inscribed –
42
1
GEo WILSON
HUTTON RUDBY
CLEVELAND
YORKSHIRE
_____
 TORNADO
In his letter Allan Bowes Wilson identified the men of the Bilsdale Hunt depicted in Hedley's painting Hunting morn –
Whipper-in ,Bobby Dowson
Hunt master, Robert Kitching
Huntsman, Nicholas Spink
Nicholas Spinks's brother, Richard, was the 'plain-clothes man', not wearing the 'hunting pink'.
The woman with the tray was Phoebe Barr, of the family who ran the Sun Inn, and the girl at the window is her niece, Ruth Ainsley.
Colour prints of Hunting morn were used, apparently without Hedley's permission, to advertise Bovril and Norman Brown whiskey. An extra man appears in the advertising prints and the girl in the window disappears in one of them.
There are also more subtle differences. The round table in the painting has turned legs, whereas they are plain in the prints. The rectangular table disappears altogether in the Bovril print.
Two people who didn't miss a chance to visit Spout House/old Sun Inn, took some great photos in 2005. You can find them at –
http://homepage.ntlworld.com/paulrose.r/Walking%20Diary/NYM%20Walks/Bilsdale%20Views/bilsdale_views.htm