On Saturday, I got a number 21 'Angel' bus to the Shjpley Art Gallery in Gateshead for another look at the Ralph Hedley: painting the North East exhibition.
The 21 leaves from Eldon Square bus station – stand G – every 7 to 8 minutes – and goes past St. Nicholas Cathedral, the Black Gate, and the Castle Keep, then across the High Level Bridge (best seen from the front seats of the top deck).
On the way back it goes across the Tyne Bridge.
The stop for the Shipley is Durham Road, Shipcote, the next stop after Springfield motors which is easy to spot on the left side of the bus.
Hedley's paintings look glossy in the gallery lighting, and details showed up well.
For instance you can read titles of lots of the ballad sheets in The ballad seller, the Black Gate, Newcastle (1884)…
…in The winnowing sheet (1898), the grains of corn tossing and blowing in the sheet are sculpted in 3D paint, as if they were blowing off the canvas…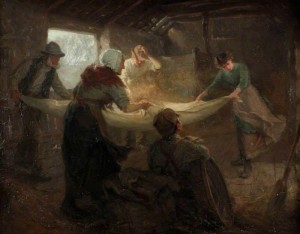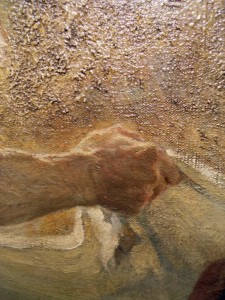 …and in a display case near to the painting Duty Paid (1896) is a quick sketch of the painting by Hedley.