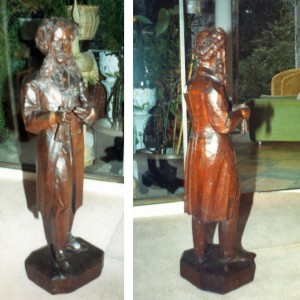 Here's another thing you won't see in the Ralph Hedley exhibition at the Shipley Art Gallery until 2 November 2013.
I saw this carving by Ralph Hedley nearly 25 years ago, and took two photos of it at the owner's house. The photos are not fantastic but you can make out a man in Victorian dress holding a handkerchief in his right hand and gesturing with his left hand as if he is explaining something. We called the carving 'man with a monocle' because he has a monocle in his left eye (though it's hard to see in the photo).
I recently read an 1899 'Ten Minute Interview' with Ralph Hedley. He said that, when he was an apprentice woodcarver in Newcastle, he used to do sketches at the theatre and 'he carved statuettes of Southern as Lord Dundreary and as David Garrick'.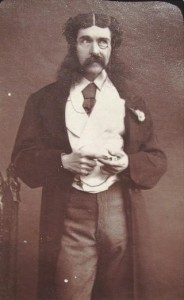 It wasn't hard to find a picture of the actor Edward Askew Sothern playing Lord Dundreary. He appeared in Our American cousin, a farce by English playwright Tom Taylor which premiered in New York in 1858.
The 'man with a monocle' was plainly Sothern as Lord Dundreary.
Sothern's Lord Dundreary became famous in the U.S.A. and then in England, for his ad-libs and comic antics as a brainless English nobleman. His huge side-whiskers became known as 'Dundrearys', and people copied his 'Dundrearyisms'… messed-up sayings like 'birds of a feather gather no moss' or 'many hands make two in the bush'.
Sothern was also a great success in the title role in Tom Robertson's play David Garrick at the Haymarket Theatre, London, but it was Dundreary that was the 'Greatest Dramatic Creation of the Age' and which made Sothern a 'Celebrated and World-renowned Comedian'.
For years Sothern toured in Our American Cousin, adding an extra scene and a song. He also worked up new productions for his most famous character – Lord Dundreary-Married and done for, Lord Dundreary's Travels, and Dundreary's Private Theatricals.
Sothern's Lord Dundreary made five trips to Newcastle between 1862 and 1871. All appearances were at the Theatre Royal, except those of 1867 when they were at the Tyne Theatre – on Friday 18 and Saturday 19 October. Both of these performances featured Lord Dundreary and David Garrick, and it was probably one of them that the 18 year old Ralph Hedley attended, producing sketches for his carvings.
So the undated 'man with  monocle' is now Lord Dundreary (1867?)… or at least he would be if I knew where he is now.
Incidentally, Our American cousin was the play that President Abraham Lincoln was watching when he was assassinated. The performance as at the Ford Theatre, Washington, and Lord Dundreary was played by the Washington actor E.A. Emerson.