These are photos from the installation of the new exhibition at the Laing Art Gallery – Quentin Blake: As Large As Life.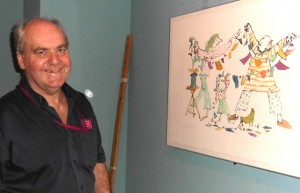 The first picture has gone up! It's one of the circus life group.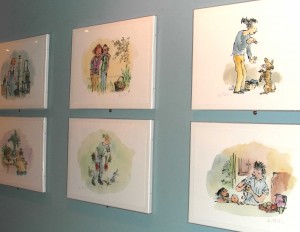 This lovely group of pictures shows people just enjoying the ordinary pleasures of daily life.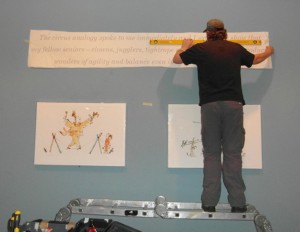 Quentin Blake's own comments about the pictures are going up in this photo. They'll be revealed as soon as the white backing is taken off.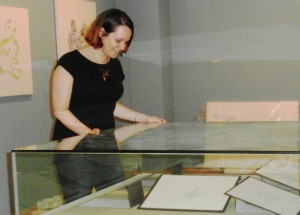 Seven Stories, the national centre for children's books in Newcastle, has lent five drawings that Quentin Blake specially drew for the centre.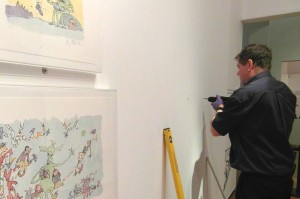 The funny and delightful Planet Zog pictures are on display in the ground-floor space next to the café.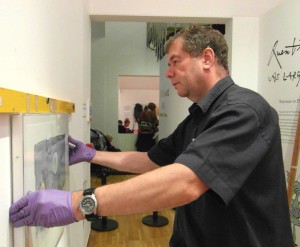 It's painstaking work getting the installation right.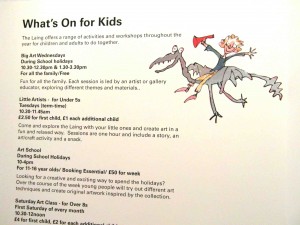 There's lots going on for kids and young people during the exhibition – details are available here, in a leaflet and in the All About Art area on the ground floor. Drop in anytime to enjoy Quentin Blake books and make your own drawings. You can see information about the exhibits and some lovely illustrations here. Have fun exploring the exhibition!
The exhibition has been organised by Compton Verney in collaboration with the House of Illustration.