'I look ridiculous.'
'No you don't, you look great.'
This brief call-and-response has been played out between myself and my partner many times over the years as she has repeatedly persuaded me, against my better judgement, to become 'a man of hats'. Under the onslaught of relentless flattery I usually acquiesce, a decision instantly regretted the moment I leave the store. Consequently I am now the less-than-proud owner of several Fedoras and one notable Heisenberg that I only ever wear abroad. I look less Breaking Bad more Breaking Wind. Some men have a head for heights and hats, I have neither.
However certain hat occasions are unavoidable and on visiting the Hatton recently to catch up on the renovation work, I was required to wear the classic building site hard hat, despite making me resemble part of a Village People tribute act.
If you've ever had any building work done at home you'll know how disruptive it can be. In refitting an entire gallery I was expecting Sodom and Gomorrah just after the moment Lot's wife realises she's forgotten her keys. Yet on meeting Senior Site manager Stevie Forster the immediate impression on entering the gallery was, frankly, a bit disappointing. I wanted Chaos, I wanted Shouting, I wanted Mountains of Debris and a Death Metal soundtrack that promised a lifetime of tinnitus. It was all rather calm and orderly, with neatly stacked piles of demolition detritus and nary a hint of dust. Maybe they'd had a quick tidy up before I arrived.
All the exhibition spaces will be relined with new lighting and climate controls (all new images courtesy of LDN Architects):
There'll be a new Shop and Reception Desk:

A dedicated Learning Zone for schools, workshops and art classes:

And the Kurt Schwitter's Merz Barn will be restored with its own gallery: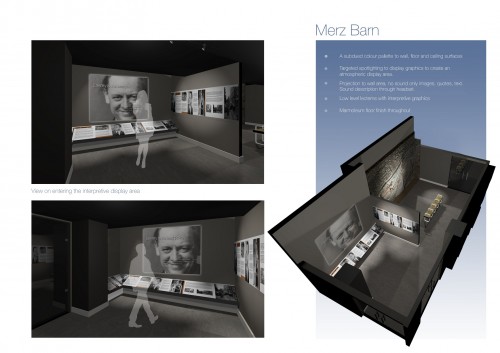 Impressive, huh? But wait, there's more! The Stores will be extended and upgraded while a new Public Study Zone will give everyone, students and public alike, unprecedented access to the Hatton's collection:
The project is currently nearing the end of Phase I. This will be followed by Phase II. You might detect here that I'm rather winging it when it comes to my in-depth knowledge of Building Project Management. As far as I can make out, Phase I is ripping out the old stuff, Phase II is putting in the new stuff (it's probably a bit more complicated than that). With the Gallery currently back to its roots and bare walls, it has thrown up a few surprises from its rather chequered construction past.
Originally built in 1912, the Hatton was extended to almost double its size in 1965 with further modifications in 1984. The renovations have exposed a lot of that later work, not all of which met with Stevie's approval: 'He must have got his brickie's ticket off the back of a Cornflakes packet'. Exposing one wall revealed an original 1912 window that had been had been replaced in 1965 by a large steel grille – which was then electrified. Do that today and you'd probably nail the Turner Prize. And the most unusual discovery was an exhibition display case that appears in photos from the 1984 development but at some point was subsequently walled up:
The University are keen to hang on to it after its removal except there's one slight problem: it's locked. So if you've been around the Fine Art Department in the last thirty years and know where the keys are then please get in touch. Failing that, if anyone has a number for Fast Eddie Fingers…
When the Hatton reopens next Autumn it will not only signify a new era but also enrich its heritage of tales and yarns, something of which Stevie is clearly proud: 'With a job like this you can look back and know you're part of its history. Some day I can come here with my grandkids and say "I did that"'.
'Revitalising The Hatton Gallery' is funded by Heritage Lottery Fund.