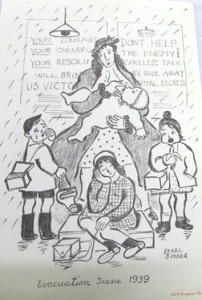 Following my last post on the A.I.A. Everyman Prints, here is a picture of print number 5 in the series Evacuation Scene 1939 by Pearl Binder: it depicts an emotional scene, presumably at a railway station or possibly one of the public buildings used as an evacuation centre at that period: a bewildered mother waits for her children to be taken off for evacuation, holding a baby in her arms, while her three other children are clustered around her, with gas-mask and gas mask boxes close to hand. One of them, a little boy, is crying, while another, a little girl, eats a banana. A third, apparently elder daughter, sits resignedly with head cupped in hand, eyes closed either in reverie or sleep. Two government propaganda posters of the time hang on the wall behind them.
The Government Evacuation Scheme which was developed in 1938 by the Anderson Committee, was not put into action in Britain until the Summer of 1939 by the Ministry of Health. In this first wave of evacuations, over 1,474,000 people were subsequently moved from the largest and most vulnerable cities and towns, although in the event only half the number of children planned were eventually separated from parents and close family and removed to the relative safety of villages, smaller towns and the countryside: however, in some large cities, such as Manchester and Liverpool, for example, over 60% of children were evacuated.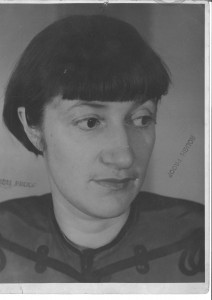 Pearl Binder captures here something of the pathos and sense of uncertainty and displacement caused by evacuation: it is more a detailed sketch or cartoon in its style, rather than some of the other more considered and painterly prints of early Wartime scenes in the Everyman series, and it reflects the candour and also the idiosyncracy of the artist: Pearl Binder was a remarkably versatile artist: described in her Wikipedia entry as a "writer, illustrator, playwright, stained-glass artist, lithographer,  sculptor and a champion of the Pearly Kings and Queens", she also produced fiction and journalism, was involved in the earliest days of British television from the mid 1930s, being a pioneer of children's television in this country, and created a series of stained-glass windows for the House of Lords. She designed pottery for Wedgwood and costumes for theatre productions, designing a musical based on the historical figure Pocahontas, who fascinated her, for Joan Littlewood at the Theatre Royal Stratford East. She was an inveterate traveller and chronicler of her travels, particularly in Russia and China, illustrated several books and was a superb chronicler of East End life, particularly its Jewish community after the First World War, having moved to Whitechapel in the 1920s from Salford. Astonishingly enough, given her origins as the daughter of a Jewish Russian/Ukranian tailor, she became associated with the higher echelons of British society and political power when she left the East End in 1937 to marry a lawyer, Frederick Elwyn Jones, later Lord Elwyn Jones, who was appointed Lord Chancellor in 1974.
And she was also, of course, one of the founding lights of the A.I.A. (Artists International Association) in 1933, along with fellow left wing artists Clifford Rowe, Misha Black, James Fitton, James Boswell, James Holland and Edward Ardizzone.
There are some superb examples of her work chronicling the East End in an informative
posting on one of my favourite blog sites Spitalfields Life, in particular, her evocative images of the long vanished early/mid 20th century Jewish world of the East End of London: there is no better example of this world than the iconic Whitechapel High Street branch of Blooms Kosher restaurant, a staple of Whitechapel Jewish life for over 40 years, the closure of which, in 1996,  reflected the changing ethnicity of the local population: it lives on in the background of Binder's picture, A beigel seller in Whitechapel High St as do many of the institutions of that time and place that feature in the works of Pearl Binder reproduced on Spitalfields Life, all reflecting her lifelong fascination with the East End of London.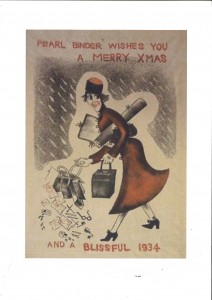 Pearl Binder died in 1990 aged 86: what a shame that the work of such a multi-talented and charismatic artistic figure is so rarely discussed or shown today. Someone who does keep her memory alive is her son, poet and rhyme-collector Dan Jones: I am indebted to him for his permission to reproduce the Christmas card from 1934, one of "the litho greetings prints that she continued to produce every Xmas for the next 50 years, come hell or high water…" says Dan, plus the striking photograph of his mother shown above: he tells me it was taken by her friend the Viennese photographer and social chronicler ("and probably spy" he adds!) Edith Tudor Hart who, Dan believes, also produced the equally striking portrait of Pearl on the Spitafields blog.
See:  http://spitalfieldslife.com/2010/05/01/pearl-binder-artist-writer/