Recently I've been researching a class of naval vessels that doesn't usually attract much attention. Since there were 44 of them they weren't exclusive or unique, although they were very special to the shipyards that built them. I'm talking about the P boats, Patrol Boats, of the First World War, that were built between 1915 and 1917.
The P boats were built under the Emergency War Programme and were designed to relieve destroyers of patrol and escort work and submarine hunting.
The outline scheme for the boats stipulated that they should be of minimum size consistent with sea-keeping qualities, be simple of construction, and have adequate speed to run down submarines. They were also to be of shallow draught and have low upperworks to reduce visibility and windage. They were to be built of mild steel but with a hard steel stem for ramming submarines. They carried a crew of about 50 men.
Specifying that they were to be simple to construct meant shipyards that usually built tramp steamers and colliers could be commissioned to build P boats. The Admiralty awarded the contracts to 18 different shipyards around the country.  Small yards from theTyne and from the Wear were proud of their contribution to the fighting navy and they commissioned models of the boats they built. John Readhead & Sons of South Shields (P31, P47 and P48), Robert Thompson & Sons of Sunderland (P28 and P49), and R A Bartram & Sons ofSunderland(P23 and P41) all had models made, and over the years those models have come into TWAM's collections
I thought it might be interesting to explore the type by looking at the model of the Bartram's boat, P23, and also referring to entries in William Bartram's diary. William N Bartram was the second son of Sir Robert A Bartram and was born at South Hylton in 1862. He worked for the family shipbuilding firm throughout his life and was managing director from around 1908 until his death on 22nd November 1923.
The diary gives us a unique insight into the building, launch, trials and handover of the boat. We are fortunate that the diary (TWAS : DS.BM/2/1) has survived as part of the collection of Tyne and Wear Archives.
The P boats had a large rudder area and a hull that was strongly cut up aft to give rapid turning. A resemblance to large submarines was fostered to give the boats a chance to close the range and sink a German U-boat by ramming or gunfire. A low, sharply cut away, funnel added to that impression.
The armament consisted of a single 4 – inch gun, a 40 mm anti-aircraft gun, and two 14 inch torpedo tubes. The model shows a second 4 – inch gun fitted aft; an addition proposed in 1916 but adopted in only one vessel, P52.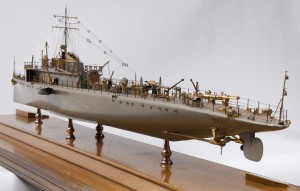 The two 14 in. torpedo tubes mounted port and starboard on the stern facing aft were recycled from old torpedo boats. It was hoped that they could be used to cripple German surface warships with torpedoes if attacked during one of the many East Coast raids. The P boats were excellent in an anti-submarine role in all weathers.
P23 had her official sea trials on June 21st 1916. William Bartram was aboard and recorded the details in his diary. After a four hour full power trial, four speed runs were made over the measured mile at a mean speed of 21.8 knots. This easily exceeded the required maximum speed of 20 knots. The trials concluded with turns performed going ahead and astern.
On June 26th William Bartram formally handed over P23 to her commander, Lieutenant Smith. After swinging the boat to correct her compasses she left for Dover and duty with the Dover Patrol. All the boats served with the Dover Patrol, Nore Local Defence Flotilla or Portsmouth Escort Force.
William Bartram continued to be interested in P23's progress. When she got a stray piece of net around her port propeller and bent her turbine blades he rushed to London to visit the boat in dock at Limehouse. Lieutenant Smith, Sub Lieutenant Symons and Engineer Hills declared that P23 was the best boat at Dover, that she had less vibration than the other P boats and that her engine room arrangements and cabins were better. Bartram must have been delighted with their praise and he recorded the remarks in his diary entry of 22nd August 1916.
When I started this piece of research I knew that the model came from Bartram's shipyard but I didn't know who had made it. The diary entry of October 5th 1916 provided the answer.
"This afternoon Crawford brought the model of the Patrol Boat down. This is one we have had made for ourselves, it is a fine piece of work"
C Crawford & Sons was a firm of model makers based in St. Marks Crescent,Sunderland in 1916.
As we move towards the 100th anniversary of the outbreak of the First World War I am hoping to find out more about the careers of the P boats that were built in our area. 19 were built in North East shipyards, more than 40% of the total. All but P26, built by the Tyne Iron Shipbuilding Co., Willington Quay, survived the war so surely there must be some tales to tell.