We want Discovery Museum to be a place where people can find out more about contemporary issues and where people can discuss these issues.
We recently found out what would be in a food parcel that would be given out to a family of three by the Newcastle West End Foodbank and bought the same items to go into our collection.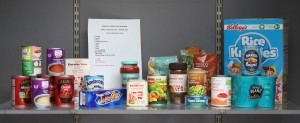 A photograph of a food parcel given to a family of three for three days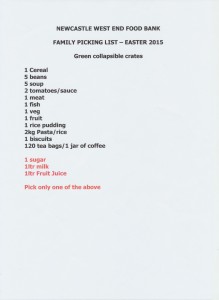 A photograph of the list of items in a family food parcel
We were surprised to find out that the West End Food Bank is the busiest in the country. Matthew King, assistant manager at the Food Bank said:
"We are the busiest food bank in the country, mainly because of the large areas of poverty we have here in the parts of the West End of Newcastle."

"We have a shortage of donations up here at the minute so we've been driving down South to stock up and bring the food back up."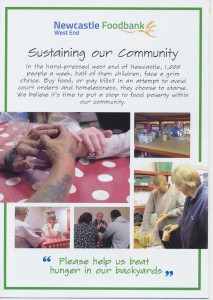 A photograph of a leaflet given out by the Foodbank
Collecting this got us to thinking about the food bank and what it says about life in Tyneside.
We found out that…
The North-East is the only region in Britain where households have become poorer. A study, carried out between 2010 and 2012, found that in every other region, households had an increase in wealth.
Ref : Office for National Statistics.
In 2014 the region had the highest unemployment rate in the country, at 10.1%.
Ref : BBC News http://www.bbc.co.uk/news/uk-england-tyne-27470706 (accessed 4/8/2015)
 What do you think about it?
We recently asked about 30 of our visitors if they knew about the Foodbank and what they thought about it. Here is what they said;
Most people did not know that the Newcastle West End Foodbank was the busiest in the country but most people had heard of food banks generally. One person had donated to a food bank.
Four people thought that the food parcel wasn't enough food and that it wasn't nutritious because there wasn't anything fresh.
Seven people thought that it contained quite a lot of food.
Four people commented that their children wouldn't eat much of what was in the parcel.
When we asked what people would like to find out about the food bank seven people said nothing more. Two people asked how you qualify to use the food bank.
People also said it made them think about what the government are going to do about it, whether  this was going to happen more, whether they would you ever find themselves in that situation, about the generosity of the people giving food, about the people using it, about the cuts to funding and about poverty in general.
 A chance to have your say and find out more
We are working with local artists John and Karen Topping and the Newcastle West End Foodbank to create an installation which opens on 10th February and runs until 24th February at Discovery Museum. We'd like you to visit us and tell us what you think of food banks. What do you think they say about Newcastle today? How does it make you feel that Newcastle has the busiest food bank in the country?