I met a lovely couple the other week.  They'd phoned to make an appointment and then travelled up from Down South especially to see one of our ship models, the ss Newton Ash.  We have over 600 ship models in our collection so only a small proportion can be displayed at any one time, with the remainder kept in storage.  The Newton Ash is one of those in store, which meant only one thing…STORE TOUR!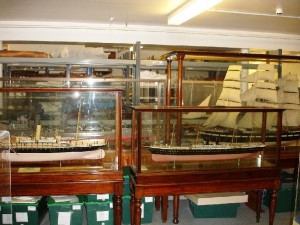 The Maritime Store is amazing, packed to the gunwales with row after row of model sailing ships, steamers and motor vessels of all types and eras.  But first we headed to the ss Newton Ash.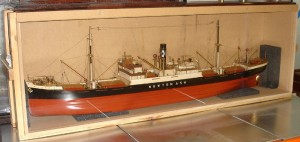 The uncle of one of my visitors served aboard the Newton Ash and died when the ship was torpedoed on February 8th 1943.  His family was, of course, devastated, and the memory of the ship holds a special place in their history.  Our model, like the full-size ship, was built by W Pickersgill & Sons Ltd of Sunderland in about 1926.
Next, I was asked if we had anything to represent the very earliest days of steam navigation, and I remembered we had this:-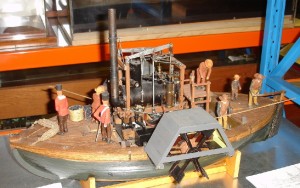 Wylam Colliery had pioneered the use of steam locomotives on its waggonway in 1813 with the Puffing Billy and Wylam Dilly but still depended on keels to transport its coal from the staiths at Lemington to Newcastle.  In 1822, Newcastle's keelmen went on strike but the strike breakers had a cunning plan: They mounted Wylam Dilly in a keel, rigged it up to drive paddle wheels, and used it to tow the keels themselves, guarded by the local militia.  Apparently, the striking keelmen were so surprised at the sight that they momentarily forgot to throw stones!
One of my visitors then noticed our model of the World War II Liberty ship ss Samderwent of 1944.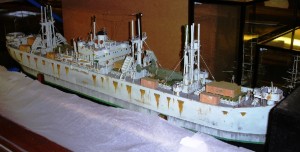 In contrast to our fine builder's models, the Samderwent is shown as she would have appeared in service during the war, streaked with rust and full to capacity with supplies for the Allied war effort, even carrying crates and an aeroplane on her hatch covers.  Notice the life rafts on slides above the deck, ready to be deployed at a moment's notice.
Around the corner from the Samderwent is our wall of shipbuilders' half-models.  Some of these are painted and "fitted out" with masts and deck fittings while others are marked with plating and frames for reference during construction of the full size vessels.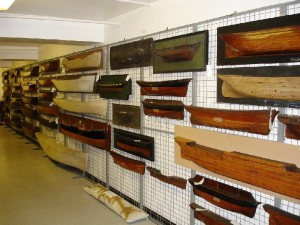 Nearby is a sign from Swan Hunter's.  Whereas it once proudly advertised "Europe's Leading Shipbuilders" to the world, it now sits across the aisle from the half models, another relic from our shipbuilding past.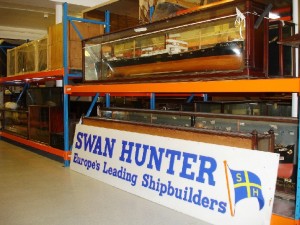 Speaking of Swan Hunter's and our shipbuilding past, we then headed back down to the public galleries where I introduced my guests to our splendid builder's model of RMS Mauretania, the pride of the Tyne, on permanent display in our 1st floor Tyneside Challenge gallery.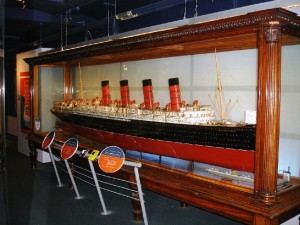 Completed, like the real thing, by Swan Hunter & Wigham Richardson in 1907, this beautiful model is 16 feet long.  To give an idea of Mauretania's size, we've put a model of Turbinia at her bow, to the same scale.  When you think what a squeeze it was go get the full size Turbinia into Discovery Museum's central atrium, imagine the size of Mauretania!  She would have towered over the museum and was as long as the street outside.  In those days, we built some seriously big stuff!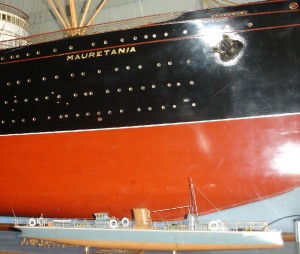 Finally, I led my visitors around to the Story of the Tyne gallery, also on the 1st floor, to share with them another collection highlight, our colossal 42 foot long model of…well…the whole of Tyneside!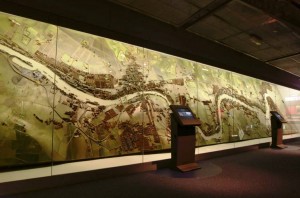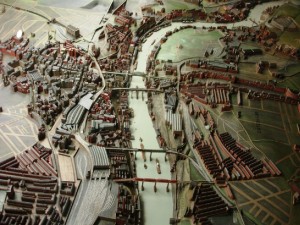 This was built for the 1929 North East Coast Exhibition and shows the length of the river from Scotswood toTynemouth in amazing detail.  Every bridge, dock and pier is there, and all of the shipyards, factories, coal mines, railways, tramways, streets, parks and public buildings as they existed in 1929.  It's ace!
My two guests then popped into Archives for a spot of family history research.  It had been a real pleasure for me to share some of our collections with such enthusiastic folks, and I began to feel a blog coming on…