Tyne & Wear Archives & Museums has recently teamed up with researchers at Northumbria University to encourage new thinking and comment around important subjects, such as Britishness, migration, and culture in an industrial region.
Each week, for four weeks, we'll be blogging about a museum object and posing a question for you to respond to.  Please help us get the discussion going by adding your comments below, whatever comes to mind.  Later in the summer, your comments may be fed into a live debate where we hope you'll have the opportunity to join academics and curators discussing the most popular topic.
So, the theme for this week is "migration", I've chosen to represent this with a 2010 Northumbria University prospectus written in Chinese.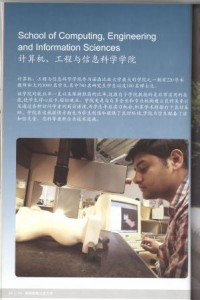 There have been a growing number of groups warning the government that changes to student visas will drive international students away from British education. Universities in particular are asking the Home Office to not include foreign students, who bring in £8 billion to the economy each year, in net immigration counts.
The government rejects claims that a crackdown on immigration would harm universities and cost the economy billions. Immigration Minister Damian Green argues that the policy does not stop 'genuine' students coming to the UK, and states that the government is "determined to prevent the abuse of student visas".
However in 2012 The Economist stated that "In the past two years the Tories have made it much harder for students, foreign workers and family members to enter and settle in the country. Britain is not only losing the war for global talent, it is scarcely competing."
Do you think limiting international student visas is a good idea?
How will this affect the North East?