In the spring of 1827, an event took place in the north east of England that was a landmark in the related worlds of art and natural history. At this time the charismatic and larger than life wildlife artist and publisher John James Audubon was on a tour of the United Kingdom in order to raise subscriptions for his planned magnum opus "The Birds of America." Newcastle and its surrounding area were one of his ports of call.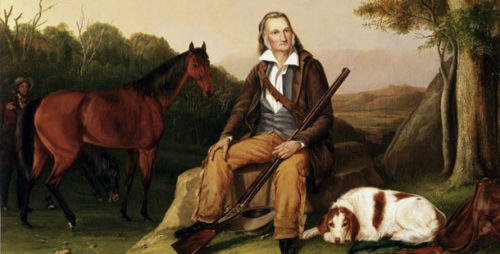 Audubon was a self-taught artist and naturalist with a passionate interest in birds. For the last twenty years he had devoted his life to searching for and painting every species he could find in America. His ambition was to publish a lavishly illustrated book that would encompass this work, which ultimately achieved a status as the greatest of all bird-books and would become one of the most valuable books ever published.   
His plan was to produce a work funded on a subscription basis that would ultimately incorporate 435 hand coloured life size prints of birds measuring around 39 by 26 inches. This size is known as a double elephant folio. The book ultimately included a number of birds that have subsequently become extinct, including the passenger pigeon. In contrast to the prevailing stilted style of bird illustration his prints attempted to convey the movement, motion and physicality of his subjects, which he succeeded in doing with great verve and accomplishment.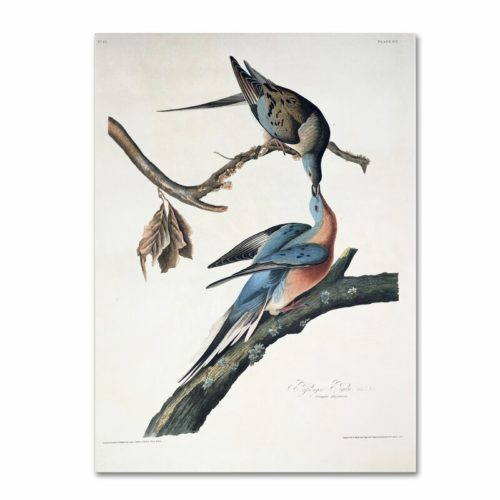 Subscribers were required to pay the large total sum of around $1000 for which they would obtain five prints at a time between the years of 1827 – 1838, They would receive five copper-engraved prints at a time consisting of three smaller birds, a larger bird and a mid-sized bird. It is thought that no more than 120 complete sets exist today. The book was originally published in Edinburgh and London. Audubon undertook an extended tour of Britain and Europe in order to attract the required number of subscribers, having failed to do this in America. He was the consummate showman at events, often targeted at scientific institutes, where he would display his original watercolours. He played up to the established image of an American backwoodsman, with his long flowing hair oiled with bear grease, luxuriant beard and a magnificent bear skin coat.  
One of the individuals who subscribed to Audubon's work was Henry Witham of Durham, a landowner remembered as an amateur palaeontologist and mineralogist. The copy that he originally owned was sold at Sotheby's in 2010 for £7.3 million pounds.  
One of Audubon's heroes was Thomas Bewick (1753 – 1828), the famous naturalist and wood engraver who at the age of 73 was reaching the end of his long and illustrious life. While Audubon was in Newcastle in April 1827 two meetings took place between the two men. 
The artistic methods of the two were utterly different. Bewick avidly avoided the killing of birds for his works while Audubon shot them by the hundred. Also while Audubon insisted on elephantine proportions for his books, Bewick wrought in miniature. His woodblocks were inches in dimension but packed with intricate detail.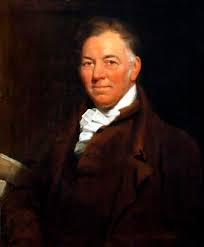 The two artists got along famously during their brief time together and Bewick "expressed himself as perfectly astounded" at the boldness of Audubon's undertaking. Audubon in his turn appreciated Bewick's consummate engraving skills and his deep love of the natural world.  
The friendship had developed into a powerful bond. As Audubon recalled in his journal  
"As we parted, he held my hand closely and repeated three times "God preserve you."  I looked at him in such a manner that I am sure he understood I could not speak." 
Audubon later named the Bewick's Wren in honour of his old friend, a bird whose dimensions matched those of the engraver's wood blocks.  
Bewick did not become a subscriber to Audubon's work, perhaps fearing that he  would not live to see it completed. He did however put down his own name on behalf of the Literary and Philosophical Society of Newcastle Upon Tyne, but the learned society did not think it proper to ratify the contract. In retrospect a rather expensive error of judgement. 
While he was in the North East Audubon was also invited to visit the noted naturalist and ornithological illustrator Prideaux John Selby (1788 – 1867) at his home, Twizzell House, in Northumberland.  Selby corresponded with Bewick on the subject of ornithological etching.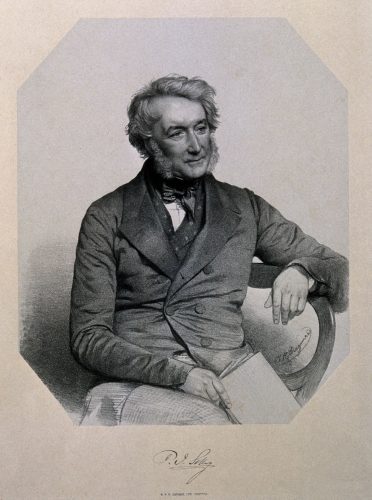 Selby had first met Audubon in Edinburgh where the American had demonstrated his artistic techniques to him. Selby was at that time engaged in producing his own noted two volume work "Illustrations of British Ornithology." Selby's book also utilised large format paper, though not on the scale of Audubon's double elephant. It contains many striking images of land and water birds and though it has not achieved the fame of Audubon's work it remains a considerable ornithological achievement.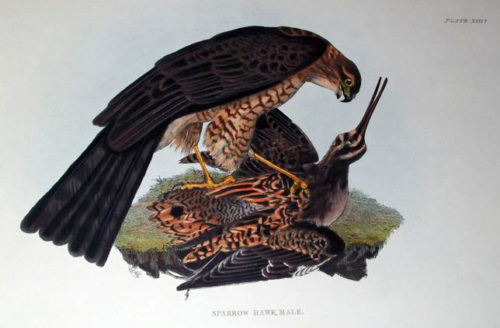 Audubon was warmly received at Twizzell and greatly enjoyed his stay, he included a delightful description of his visit in his journal. 
"At half past four, the coach stopped outside the lodge of Twizzell House. I left my baggage in the care of the woman at the lodge, and proceeded through some small woods towards the house…a fine house commanding an extensive view of the country, the German Ocean (the North Sea) and Bamburgh Castle" 
He gave drawing lessons to Mrs Selby, who he noted "drew fully as well as I did, and is now imitating my style" 
Selby took out a subscription to Audubon's work, but was to cancel it in 1832 because of issues with the quality of the prints he was receiving. 
After leaving the North East, Audubon did not return to this area, and continued with the gargantuan task of completing and publishing his monumental work, which took a huge toll on his health and wellbeing. His efforts were not in vain however as his "Birds of America" has now achieved legendary status and is considered to be one of the most charismatic and groundbreaking works of natural history ever published.  
It is unfortunate that there is not a copy of this book available in the North East. However the Natural History Society of Northumbria (NHSN) Library, located in the Great North Museum: Hancock Library, has a high quality reproduction, and also other items produced by Audubon. It also has a comprehensive collection of first editions of the works of Thomas Bewick, and also an original copy of Selby's "Illustrations of British Ornithology". The library is free to use for all. We hope it will reopen for visitors soon. 
The NHSN was established in 1829, only two years after Audubon visited Bewick and Selby.  
---
As a charity, Tyne & Wear Archives & Museums rely on donations to provide the amazing service that we do and our closure, whilst necessary, has significantly impacted our income. Please, if you are able, help us through this difficult period by donating by text today. Text TWAM 3 to give £3, TWAM 5 to give £5 or TWAM 10 to give £10 to 70085. Texts cost your donation plus one standard message rate. Thank you.