I am in the process of cataloguing a collection of oil colour prints by George Baxter (1804-1867). The Hatton Gallery hold a collection of around 500 Baxter prints. The prints are of exceptional quality and provide an illuminating insight into contemporary Victorian life, depicting its society, dress, important events and people. Baxter also created meticulous reproduction of famous paintings. Baxter was fastidious in recording the minutiae of life in much the same way as a camera would today.
Prolific in his creative output, Baxter produced stand alone prints as well as prints for illustrated books, sheet music, needle boxes and playing cards. Baxter was steadfast in his determination to create inexpensive oil colour prints which resemble miniature oil paintings.
This print entitled Come Pretty Robin (1857) provides a rare insight into the print making process. The first print in neutral colour is taken directly from an intricate steel plate engraving. Following this first print Baxter applied successive layers of wood blocks in single colours. This process required a remarkable degree of precision and patience.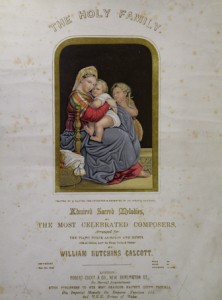 The Holy Family (1850). A fine example of how Baxter's prints were used to illustrate sheet music.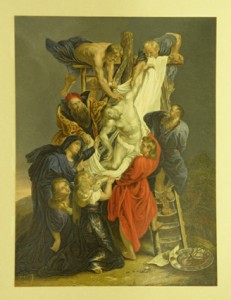 The Descent from the Cross (1855). Baxter often printed reproductions of famous paintings. This is taken from a work by Flemish Baroque painter Pieter Pauwel Rubens. Baxter viewed the painting at Antwerp Cathedral and made studious sketches before translating it to print. This is considered by some experts to be the finest colour production by Baxter.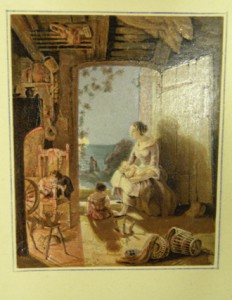 Fisherman's Home (1848). Just 7 x 5.5 cm (h x w) this print provides an intimate glimpse into an informal contemporary domestic scene. The print is rendered in meticulous detail and the colours appear alive and vivid even in the tiniest spaces.  The print is from a painting by F.J. Wyburd.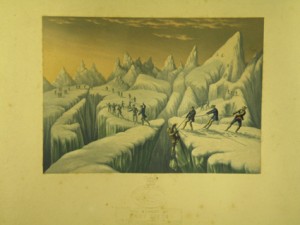 The Ascent of Mont Blanc (leaving the grand Mulets) (1855). This is one of a series of four prints depicting this ascent. These prints were taken from drawings by J. MacGregor, who was a member of the expedition. This first print shows the chief guide, Tissay, being pulled to safety after a sudden break in the ice.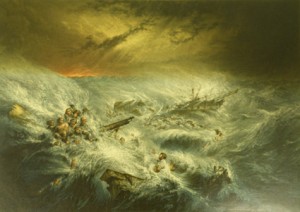 Wreck of The Reliance (1843) this dramatic ship wreak scene off the French coast near Boulogne was based on an description of the event from the only British survivor R. Dickson.
Today, some 150 years later Baxter's careful detail and exceptional sensitivity to colour is still very much admired. Baxter's prints create an excellent picture of the England in which he lived.