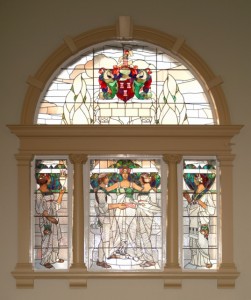 As this is our first blog – we thought we'd tell you why we've decided to do this and also to tell you a little bit about us.
We are Friends of the Laing Art Gallery (FLAG) and next year we celebrate our 50th anniversary. To commemorate this event we thought it might be a good idea to look back over the years. Everyone likes a bit of nostalgia! So to that brief we thought about how we could do this and let as many people know about this momentous occasion as we could. We all know that the internet is a powerful medium, so with the help of Emma and Sam (who are a lot more digitally savvy than we are!) at the gallery, we took the giant leap and here we are!!!
We are hoping to have a series of blogs in 2015 with the emphasis on how we've supported the gallery and how FLAG encourages and promotes interest in Art. We do this in many ways – we have regular afternoon talks from visiting speakers and from our own members on a variety of subjects.  In the last few months we have heard all about the pubs of the west end of Newcastle (only through photographs and not as a pub crawl!), we've heard about stained glass windows and the building of 'The Big One' – the most heavily gunned ship ever built on Tyneside.  Our evening lectures include supper and wine – they can cover topics as wide ranging as Ralph Hedley a remarkable local artist to Christmas themed talks. We also organise day trips and longer holidays on a regular basis. Next year to celebrate our 50th in style we are touring Scotland over a 7 day period taking in sights such as The Kelpies, Falkirk Wheel, Skara Brae and much much more!!!
Our enthusiastic members provide an information desk in the stunning Marble hall (you'd be surprised at some of the questions we are asked – although the most popular is directions to the cafe, toilets or exit). We also have a 'picture of the month' talk, again given by our knowledgeable FLAG members.
So as you can see there is always plenty going on. If you'd like to find out more or to join in any of our events please e-mail us art@flag.fslife.co.uk  Or you can ring us at the gallery on 0191 261 0962.