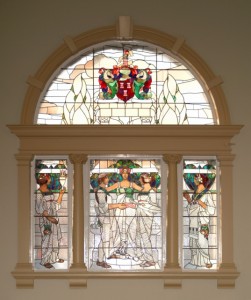 Happy New Year!
Now that the festive season is behind us we can look forward to an exciting 2015!
As January always seems to be a long, cold and dark month why not try something new and join us at FLAG (Friends of the Laing Art Gallery), supporting the Laing Gallery through fundraising, organising events and lectures, hosting our picture of the month talks and staffing the Friends' welcome desk. Membership gives you many benefits. There may be invitations to prestigious exhibition openings and you can find advance information on the gallery and related activities in our quarterly magazine. We also host supper lectures and other social events, visits and holidays to art related destinations and of course discounts in the Laing shop and cafe. In the next few months we have visits to St Mary's Cathedral, Holker Hall and Rosslyn Chapel.
2015 is a special year for us at FLAG – we are 50!!! So in addition to our normal activities we are planning some extra special events to commemorate this important occasion – WATCH THIS SPACE for details.
You can contact us on 0191 261 0962, e-mail us art@flag.fslife.co.uk or pop in and see us, there's usually someone in the office on Tuesday and Wednesday's. You can also print out an application form by clicking here.
Come and join in our celebrations for this special year.