We have in the Tyne and Wear Archives and Museums costume collection some beautiful wedding outfits from the First World War era.
1914 – TWCMS : D5868.1-5 & D5871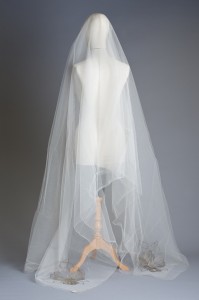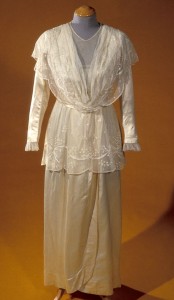 This wedding dress (above) is currently on display in 'When the Lamps Went Out' at Discovery Museum, Newcastle, until 28th June.  We also have in our collection the various veils, shoes and headdress that were worn with the dress.  The dress was actually cut from the fabric of the bride's mother's wedding dress of 1884.  The dress has fashionable V-neck and floating drapery over the tops of the arms.  The wreath and some of the embroidery depicts Lily of the Valley flowers.
1915 – TWCMS : C19965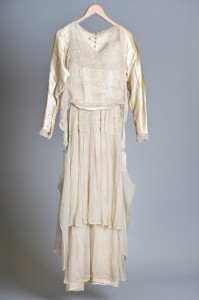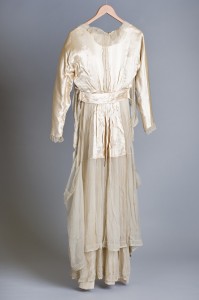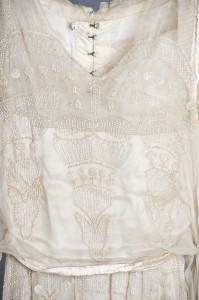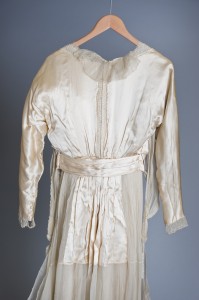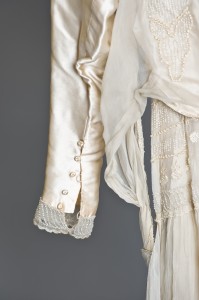 This wedding dress was worn in March 1915 by Miss Winifred Bell when she married Mr D'Ambruimenil in Scotland.  The skirt of this dress shows the move away from the restrictive 'hobble' skirts of previous years towards wider and more flowing skirts.  It has some beautiful glass bead decoration on the chiffon overlay.
1916 – TWCMS : P34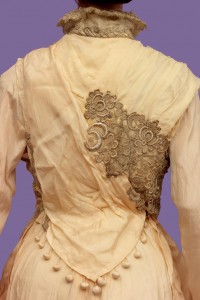 This wedding dress was worn by Sophia Goldberg, who was married at Moor Street Synagogue in Sunderland in May 1916. The dress was made by Miss Graham of Blandford Square in Newcastle (which is the same address as Discovery Museum!).  This fashionable dress has a Medici collar, silver lace which was a sign of purity and an above ankle length skirt.
1917 – TWCMS : K1824.2 & 3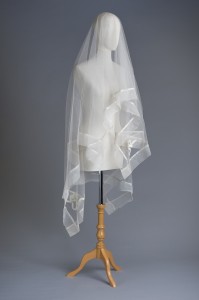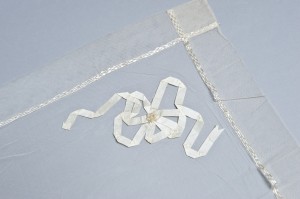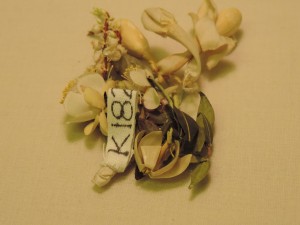 The dress that was worn with these accessories is currently on display in 'When the Lamps Went Out' at the Discovery Museum, Newcastle, until 28th June.  It was worn by Miss Eleanor Wilson when she married Mr Henry Sadler Williamson of North Shields in November of 1917.  The spray seen here is imitation Orange Blossom, which from the early 19th century was used on wedding dresses to symbolize virtue and fertility.
1922-1925 – TWCMS : H3915 (Wedding dress) & H3914 (Bridesmaid dress)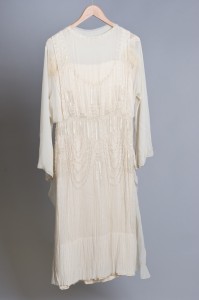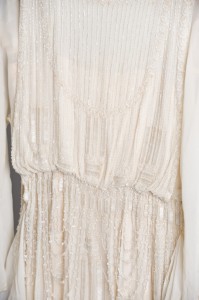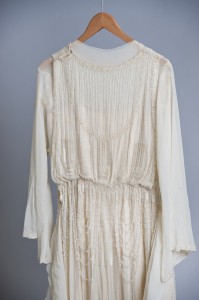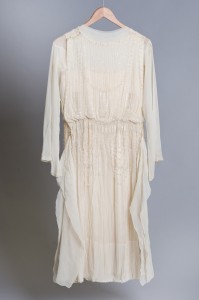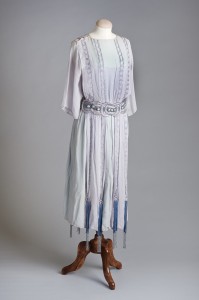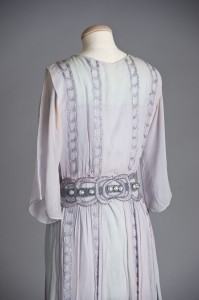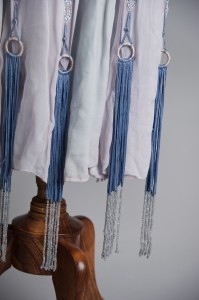 TWCMS : Q347
This post war wedding dress and bridesmaid dress were both worn by Miss Helen Grace Clark. She wore the bridesmaid dress for the wedding of her sister Nancy in 1922 and the wedding dress for her own wedding to Mr Buckle.
As can be seen from the photographs both weddings took place at the same location and both dresses reflect the changing fashions of the day.  The skirts are much shorter and the waists are much lower down the body.  The simple lines and flowing skirts are more youthful than in the Edwardian period and would have required much less restrictive underwear.  Both of these dresses were purchased at Newcastle's own Fenwick department store.