As part of the 'Wor Life' project I have been identifying First World War era clothing and textiles within the Tyne and Wear Archives and Museums collection.  Here I will show you seven beautiful outer garments.
1910-1914 – TWCMS : J6778
This gorgeous shawl was made in Turkey and is embroidered with a geometric pattern of small silver strips.
1914 (c)  – TWCMS : K3432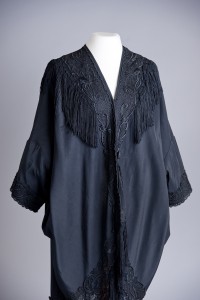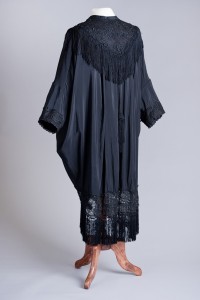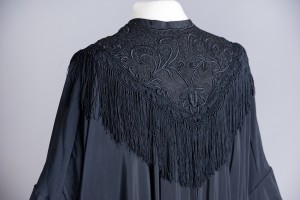 This fringed evening coat shows the fashion for voluminous coats with one large decorative button that was popular at this time.
1914-1918 – TWCMS : K3428
This short evening jacket from the war years demonstrates the popularity of velvet for evening wear and has some lovely ruched sleeves.
1918-1922 – TWCMS : J8125
This beautiful magenta evening coat is dated to the end of or just after the First World War.  The buttons with loop fastenings are common at this time as are fur collars.
1918-1922 – TWCMS : J8076
This olive green evening coat is made from synthetic satin.  Synthetic fabrics became much more common after the First World War making expensive looking clothes much more reasonably priced.
1918-1922 – TWCMS : J8077
This extravagantly decorated coat must have been worn for special occasions.  Fur was especially popular as a trimming from 1916 onward, as were large hip level pockets.
1919-1924 – TWCMS : K8837
This long, velvet evening coat is dated to just after the First World War and it demonstrates the emerging fashion for shapeless cloths and a more masculine outline.