Written by Rachel Booker, Communications Officer, Laing Art Gallery and Shipley Art Gallery
In the Laing Art Gallery's collection display, 100 Years of Collecting, Nahem Shoa's striking oil painting Head of Desiree hangs on the back wall of the gallery. At 121cm high and 92cm wide, the portrait is not only noticeable for its impressive scale but also the dynamic positioning of the head along with the sensitive attention to the sitter's facial features and skin.
Born in Notting Hill, London in 1968, contemporary painter Nahem Shoa is best known for his series of portraits called Giant Heads (2004). Featuring British citizens from different ethnic and sexual backgrounds, the artist aims to "capture and celebrate the multicultural nature of our society." Painted up to fifteen times larger than life size, the portraits are painted directly from life rather than photographs. Shoa believes that this approach allows him to "become a more subtle and complex painter because you have to analyse and translate something small scale on to a huge scale." In fact, the artist compares each painting to an "investigation", by opting to use "a hot and cold colour palette which has no black, brown or umbers." It may come as a surprise to some that he uses the same colours to paint black people as he does with white. Head of Desiree is one of many portraits of the artist's friend, Desiree Sanderson, who describes her sitting sessions with Shoa as "friendly therapy…[to celebrate] the beauty of my brown skin".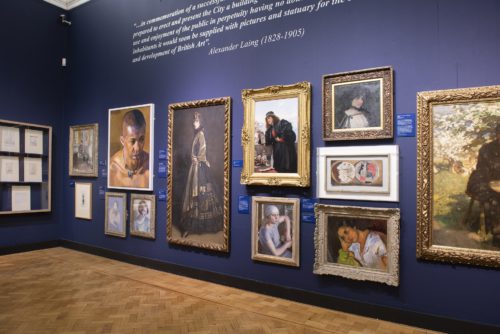 Racism has been a theme of Shoa's work for 25 years: "I want people to realise that Britain is a changing thing….you change things by setting an example…a museum is there to be thought provoking…I want people to realise that artists of colour can be as great as anyone else…if not better".
Julie Milne, Chief Curator of Art Galleries at TWAM, said: "This striking portrait of Desiree is a great addition to the Laing's permanent collection. Nahem is a brilliant portrait painter and the work is a perfect fit with our collection which has a strong strand of British portrait painting. I am delighted that the work has gone on display as part of our collection rehang where it will be enjoyed by visitors for years to come. We are very grateful to Nahem for this generous gift".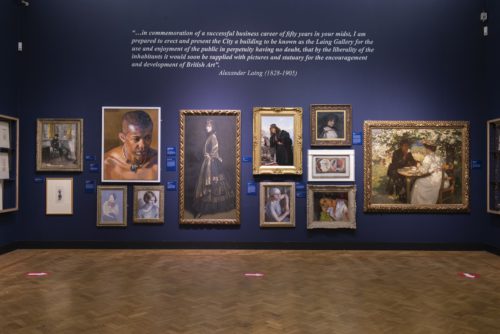 Nahem Shoa is especially keen to increase the number of positive images of black people in British art collections and has donated many of his own works to public collections, such as the Laing Art Gallery. The artist has won a number of awards and prizes for his work, and serves on The Royal Albert Memorial Museum and Art Gallery's Contemporary Arts Panel. His work has been exhibited in London's National Portrait Gallery and the Royal Academy, as well as at galleries and museums in other parts of the UK. Nahem Shoa: Face of Britain exhibition is currently showing at Southampton City Art Gallery until 20 February 2021.