During my project I re-packed the fans so they could be immediately visible before they are handled. This is so important due to the fragility of some of the fans. They are all stored in draws in the museums costume store, packed in protective compartments separated by tissue. Fans were traditionally stored in metal or cardboard fan boxes, but I like to think that a wealthy lady would have a selection of fans displayed just like this ready to match with her outfit.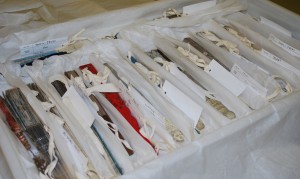 Following on from the first five fans in my top ten is a bone and silk gauze fan dated 1910. The symbolism of this particular fan really caught my eye and made it stand out to me. It depicts pale blue dragonflies emerging from the chrysalis, which are painted onto the gauze fan leaf. This symbolises a woman's liberation from her restrictive garments during the early 20th Century. It shows how the fan as an accessory can be a subtle yet powerful tool, not only in the language of the fan but also in the image or decoration.
The language of the fan was a very subtle way for a lady to communicate with gentlemen suitors. A few examples of this are:
Placing the fan near the heart: 'You have won my love.'
To fan very quickly: 'I am engaged.'
Carrying the fan open in the left hand: 'Come and talk to me.'
Due to the popularity of the fan they were often given as gifts or bought as souvenirs. This delicate Chinese hand painted fan showing a fishing scene is beautifully detailed. My favourite part being the carved fan guard that shows intricate carved leaves and a small bird with tiny eye detail.
The sticks are made from bamboo, which is typical of Chinese fans and when open the sticks show that they have been carved and printed with an oriental floral pattern in a grey metallic paint.
At first glance I thought the next fan could have been a child's, due to its smaller size. However these smaller more dainty fans, known as brise fans became very popular at the beginning of the 19th Century. A brise fan is typically made of bone or ivory and has no fan leaf. Instead the sticks are heavily pierced to give an ornate lace like effect, and then strung with satin ribbon, some coloured but in this case cream. They were usually painted with dainty, pretty flowers. At the time these elegant fans were the epitome of contemporary style.
This example is made of celluloid (a type of plastic) and is painted with very pretty floral posies, most likely in gouache. A gold metallic painted line follows the ribbon that has strung the sticks together.
The final fans in my top ten are from my favourite era, but are both so different in style.
The first is dated c.1920. It is the most unusual shape and has a really practical yet delicate fastening. The fan guards are imitation tortoiseshell made from celluloid and are formed in a teardrop shape. Due to the size of the fan and its fastening, which is also a retractable handle it is most likely that it was designed as a pocket fan. The fan is made up of three layers of feathers, showing a combination of guinea fowl and pheasant.
Ladies who accompanied gentlemen on shooting parties would be given a box of feathers to take home. These were often made into fans just like this one.
I was drawn to the final fan in my top ten as it has a very glamorous feel to it. It is a 'fly whisk' fan and is one of the most modern fans in the collection dating from 1920-1930. Fans became increasingly less popular during this period and were rarely used after the 1930s. However during the 1920s extravagant fans like this one were considered the must have accessory for a slim line evening dress. The fan is made from a large black ostrich feather and the single handle is slightly curved and is made of black celluloid. It has an art deco style sphere at the end of the handle, which is decorated in a typical linear art deco style with striped inserts in cream.
Fans made after the 1930s were normally made for advertising, as souvenirs or to mark special occasions. Some fashion houses, for example Hermes, have been known to give fans away at catwalk shows, and it is noted that the fashion designer Karl Lagerfeld holds a fan while watching his famous Chanel shows.