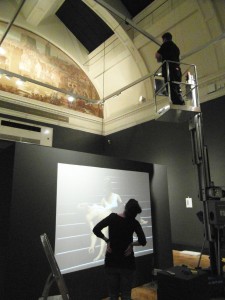 In the Divine Bodies exhibition, Pippa and Steve get the screen ready to project Sam Taylor-Johnson's Pietà, which features the artist herself and renowned actor Robert Downey Jr.  This is one of the contemporary artworks on show with old master paintings in the exhibition.
Some really special historical paintings by Zurbarán and Van Dyck have been lent from the National Gallery, London. However, the core of the exhibition is from the museum service's collection of fine old master paintings. It includes lovely pictures by European masters such as Wtewael, Janssens and Procaccini.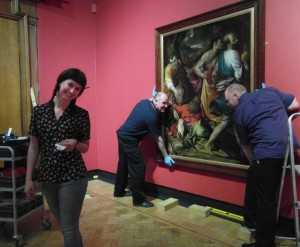 Pippa, Divine Bodies exhibition curator, displays Procaccini's Drunkeness of Noah (from the Hatton collection).  Mark and Garry have the heavy work.
There are many striking combinations of old master pictures and more recent art in the exhibition. Contemporary and modern works include sculpture by Ron Mueck, and paintings and photographic art by Cindy Sherman, Marlene Dumas, Tom Hunter, David LaChapelle and John Currin.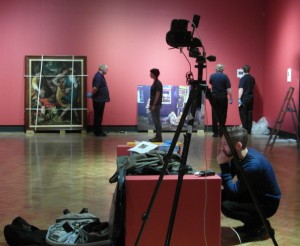 Photographers for the Art Fund have come to record some of the installation of the exhibition. Pippa is the National Gallery Curatorial Trainee supported by the Art Fund. She has been working with Tyne & Wear Archives & Museums for 15 months, and has undertaken a lot of valuable research on the old master collections, as well as developing this fantastic exhibition.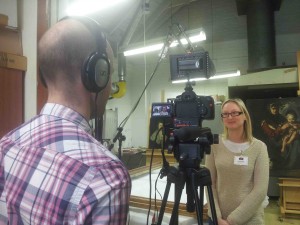 Some mini films are being made featuring aspects of the exhibition, so look out for these on the website in the coming weeks. The first focuses on the work the museum conservators have been doing on old masters in the collection ready for the exhibition.
The exhibition is on show from 8 June – 29 September 2013 at the Laing Art Gallery. Read more here – http://bit.ly/16s1bhR