The Spanish Civil War (1936-9) brought together abstract, realist and Surrealist artists in Britain in opposition to the actions of Franco and his fascist allies. The war broke out after Franco led Nationalist rebels in a violent attempt to overthrow the democratically elected Spanish Republican government. Due to an international non-intervention pact, help for the Spanish Republicans was limited to Russia, while Franco benefitted from troops and military aid from Italy and Germany. For many in Europe, the conflict became a battleground for ideas in the years before the Second World War.
In Britain, the left-wing Artists International Association responded with a 'Help Spain!' campaign. This striking design is one of the varied items in the exhibition Conscience and Conflict: British Artists and the Spanish Civil War currently on show at the Laing Art Gallery. This big and fascinating exhibition includes paintings, prints, photographs, posters and sculpture.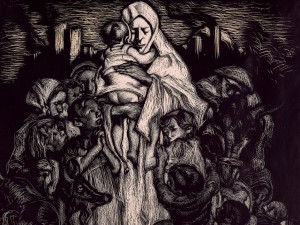 Frank Brangwyn's Spain is another of the powerful campaigning prints in the exhibition (this is a detail of the design). It was made into a huge poster for the Fund for Distressed Women and Children, which helped civilians on both sides of the conflict. However, Republican areas suffered particularly as Franco cut off supply routes. It's a notable feature of this turbulent time that many artists wanted to get involved with designing posters for campaigns to make a practical difference through fund raising for aid.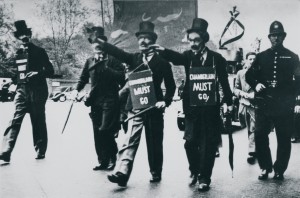 Other artists worked to try and influence the British government to go to the aid of the Republicans. At the 1938 May Day parade in London, a group of Surrealist artists marched dressed as Prime Minister Neville Chamberlain, mocking him for his non-intervention policy. They were accompanied by a tricycle carrying a papier-mâché horse's head supplied by the artist Julian Trevelyan, which is on display in the exhibition. In characteristic Surrealist style, when the march halted every now and then, the artists would do a little dance, holding their umbrellas aloft. More conventionally, artists such as Henry Moore signed declarations calling for action.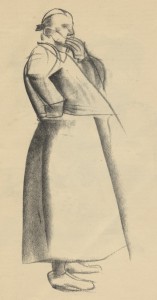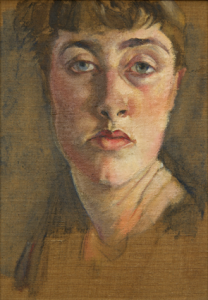 For some artists, campaigning was not enough, and they felt they had to join the fight in Spain. Felicia Browne joined a militia near Barcelona in August 1936, but died only a few weeks later attempting to help a fallen comrade on the front line. Some of the drawings she made in Spain, retrieved by fellow militia members, are on display in the exhibition. She was the first Briton to be killed in the conflict.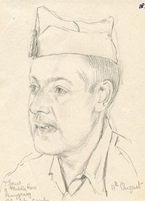 Communist artist Clive Branson also went to Spain. He was one of many volunteers who fought with the International Brigades. Altogether, 2,500 British volunteers joined 35,000 people from 53 countries in Spain. Branson's drawings of fellow Brigade members who ended up alongside him in an Italian-run prisoner-of-war camp are displayed in the exhibition. This sketch shows T Jones wearing his Brigade uniform beret.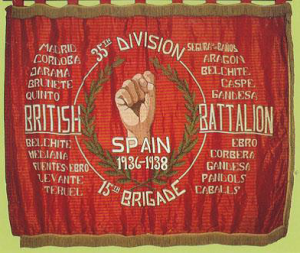 This banner was embroidered by the women of Barcelona and presented to the British Battalion of the 15th International Brigade in 1938.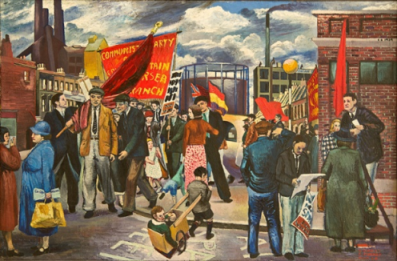 After the conflict, Clive Branson returned to his home in Battersea in London, and devoted his time to organising events and marches. There's a Spanish flag being held aloft in the background of his picture of Demonstration in Battersea, a painting that links the events in Spain with wider political activism in Britain in the years immediately before the Second World War.
The theme of art and class is the subject of a talk by Professor Ysanne Holt of Northumbria University on Wednesday April 1st – Art and Class: British art in the 1930s (2-3 pm, Laing Function Room, £2, students free).
On Saturday 16 May, Steve Chambers of Northumbria University will introduce a Spanish Civil War radio drama documentary To Make The People Smile Again (BBC Radio, 2007). Steve was the producer of the drama doc, and will also giving a talk alongside Martin Ellis of Zymurgy Publishing, publisher of the book that inspired the drama. The radio production includes  fascinating interviews with International Brigades survivors (Laing Art Gallery function room, 2-3.45 pm, free).
Conscience and Conflict: British Artists and the Spanish Civil War is a partnership exhibition with Pallant House Gallery, Chichester. The exhibition is accompanied by an informative and well-illustrated exhibition book by Simon Martin, Artistic Director of Pallant House Gallery and curator of the exhibition – available from the Gallery or our online shop.
Illustrations
Anon, Help Spain, 1937, Courtesy of the People's History Museum, Manchester
Frank Brangwyn, Spain (detail), 1937, Leicestershire County Council Artworks Collection
Surrealist artists participate in the May Day march 1938, Photo by F E McWilliam reproduced courtesy of the F E McWilliam estate.
Felicia Browne, Self-portrait, Private collection
Felicia Browne, Spanish Woman, Private collection
Clive Branson, Drawing – No. 18 T Jones 11 August, 1938, The International Brigade Archive at the Marx Memorial Library, London
International Brigade Banner, October 1938, Embroidered banner by the women of Barcelona for the British Battalion, The International Brigade Archive at the Marx Memorial Library, London
Clive Branson, Demonstration in Battersea, 1939, Collection of Rosa Branson