Since this is my first blog post on the TWAM website I thought I'd write about something I cared a lot about and that is the deinstallation of the Fashion Works gallery on the second floor of Discovery Museum. Popular since it opened in 1995 it has played a big role in the shaping of the museum but is now one of the oldest galleries in the museum. Permanent galleries in museums tend to have a life span of 15 to 20 years before they are updated.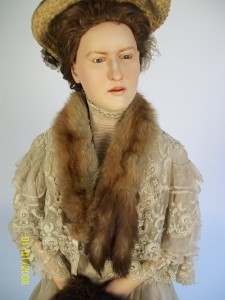 Fashion Works gave an insight into local department stores along with the work associated with seamstresses. Recently key pieces of work from Northumbria University students were added to the gallery to provide a contemporary focus.
Fashion Works closed to the public on 11th November 2012. It took a team of museum staff including conservators, documentation and curatorial teams a week to remove all of the collection. Items were photographed in preparation for the collection being accessible online. Volunteers helped to hoover the surfaces of the more historic and fragile items. Since the gallery has been open for long this was a welcome chance to clean the dresses and to give them a 'rest'. Displaying garments for a long period can subject the fabric to stress so it's good to give them a chance to be cleaned and taken off the mannequins.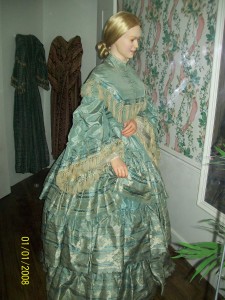 The next step is for the material to go back to store where it will be repacked and all of the data in our collections database will be updated with photographs and new locations for the material. Its quite a big job and will take weeks if not months to complete!
I played a part in taking down Fashion Works on the 15th November with the history team. My role involved packing up case number nine. It is an original from the Fenwick department store. It was filled with brochures and catalogues mainly from Fenwick and Bainbridges. It was fascinating, for me personally, to delve into the fashion industry in the early 20th century, and to compare and contrast how much it has changed, mainly in its use of advertising and how much fashion has progressed in the years.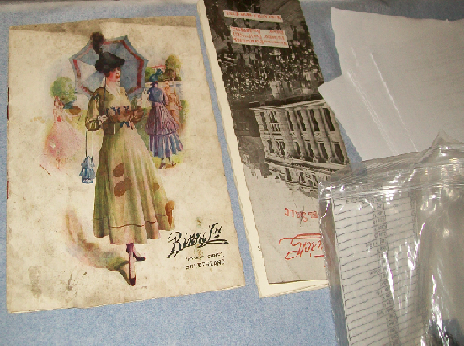 It is a shame we have had to wave goodbye to Fashion Works however we are excited about the new exhibition which will replace it by summer 2013.
The collections from Fashion Works will still be available to the public through store visits, open days and future exhibitions.