For those who haven't read my previous blogs, I completed a work placement at South Shields as part of my Master's degree in Art Museum and Gallery Studies at Newcastle University. During my placement, using the museum's art collection I curated a number of exhibitions, one of which was 'Watercolour Treasures'. Almost a year on from developing the exhibition, I recently began volunteering at South Shield's to assist Adam Bell with some of the last final touches.  'Watercolour Treasures' has now been up for a few weeks at South Shields Museum & Art Gallery, and I am really happy with how it has turned out! The exhibition looks great, and this has been in no small part, thanks to Brian of the FOH team here, who hung the exhibition.
Today is likely to be my last day at South Shields for some time as due to other work I will no longer have the time to commit to it. For my last blog, I wanted to write a short piece about 'Brig Aground at Marsden Rock' which is currently on display as part of 'Watercolour Treasures'.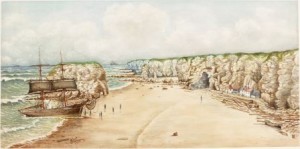 TWCMS: G4517 from the South Shields Museum collection
Depicted in the watercolour painting is a brig which has run aground on the sands of Marsden Bay. Opposite the brig, carved into the cliff face, is Marsden Grotto. It is rumoured that Jack Bates, a lead miner, used explosives from a nearby quarry in order to blow the hole larger and consequentially earned himself the nickname 'Jack the Blaster'. Then, in order to avoid paying rent, he moved into the cave with his wife.
Coming from an arts background, I have been taught to appreciate art from a purely visual or conceptual standpoint (and to do so whilst stroking my beard). If there is one thing that I will take away with me from my time here at South Shields, I want it to be the fun that I have had in discovering and sharing the stories contained in artworks such as this one.