I've been exploring TWAM's collections and have found some interesting and surprising things.
This is one of the highlights of our Archaeology collection and is on display at Segedunum in Wallsend:-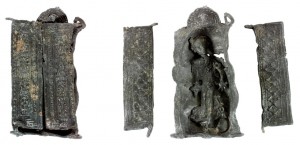 It's a portable Roman shrine about the same size as an ipod, made of lead with doors on the front which open to reveal a handy pocket-sized god (possibly Mercury) – perfect for the busy Roman on the go.  I wonder if Roman pedestrians ever got so engrossed in their shrines that they would step out in front of oncoming chariots?
Speaking of chariots…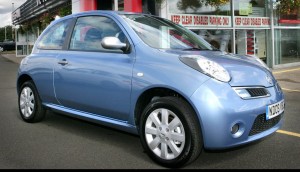 This little beauty is our 2009 Nissan Micra, resplendent in "Pacific blue".  We like to keep our collections up-to-date by "contemporary collecting", so we acquired this to represent the continued importance of Nissan to the North East economy.  After being photographed in the factory, the car was delivered straight to our large objects store and is preserved for future generations to marvel at.
In 300 years' time, the Micra will seem just as amazing as these brilliant leather mules are to us today:-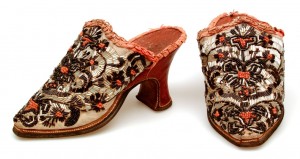 They date from about 1670 and are a highlight of the Costume collection at Discovery Museum.  They are lavishly decorated with beads of black and white glass and orange coral.  Red heels were all the rage at court from the 1660s and mark out the wearer as being particularly…er…well heeled.  And of course, these were men's shoes, from an age when men could sparkle too!  Well, rich men anyway…
Finally, here's a couple of interesting lumps, one of reinforced concrete, the other of wood:-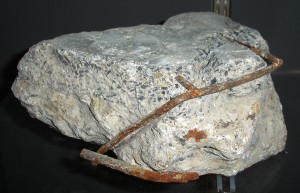 The concrete lump is from Gateshead's "Get Carter" car park.  When this iconic structure was being demolished in 2010 we arranged to "get car park", as it were.  It's currently on temporary display in the Saving History case next to Discovery Museum's gift shop.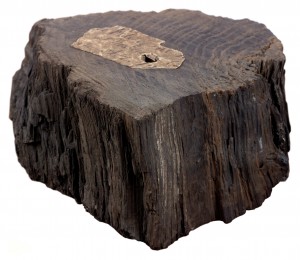 The wooden lump is part of a foundation pile from Newcastle's earliest known bridge, Hadrian's Pons Aelius of about AD120.  The Roman foundations were re-used for a new bridge in the late 13th century, a bridge which lasted until 1771 when parts of it were washed away in northern England's Great Flood.  So, after carrying people across the Tyne for 1,650 years, this piece of wood was rescued and is now enjoying a well earned rest in store at Discovery Museum.
With over half a million objects in our collections there's always something new (or old) to discover!