As part of my work on the 'Wor Life' project I have been identifying First World War era clothing and textiles within Tyne and Wear Archives and Museums stores. Here are ten pairs of shoes;
1910-1914 – TWCMS : H16931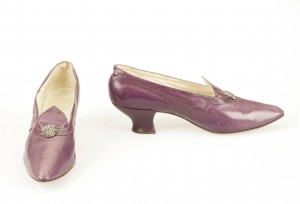 These kid leather shoes from before the war are a beautiful colour-it's sometimes easy to forget when looking at black and white photos, that Edwardian women wore some quite garish colours.
1914 – TWCMS : H16902
These satin wedding shoes are in beautiful condition and were obviously treasured.
1914 – TWCMS : D489 – wedding shoe
s
These simple wedding shoes have been dyed black for everyday use after the big day.
1915 – TWCMS : D495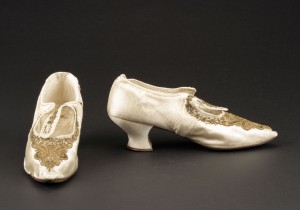 These beautiful beaded evening shoes are dated to 1915, as the war continued women were encouraged to dress well, for morale, but also not to be be extravagant.
1915 – TWCMS : J2569
Shoe ornaments, such as buckles and bows, were very popular and were often detachable. As the war continued many women made their own shoe decorations out of left over buttons and spare material.
1913-1919 – TWCMS : H16932
This style of shoe is known as a Cromwell shoe because it looks like the type of shoes that were worn when Oliver Cromwell was in power.  It was popular during the first few years of the 20th century – they go to show that there's nothing new in fashion!
1915-1920 – TWCMS : D2145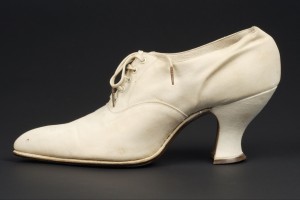 This type of shoe is called an Oxford shoe, its very thin toe would have been pretty uncomfortable to wear!
1915-1920 – TWCMS : H16976
The majority of our shoe collection from this period consists of black or cream shoes – wedding shoes and everyday shoes.  Many women took up jobs for the first time as the men went off to war, they therefore needed more comfortable and sturdy footwear- but still with a small bow as decoration.
1917-20 – TWCMS : 2005.5096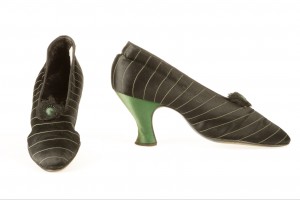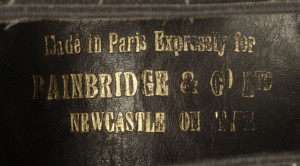 During the First World War women's skirts became shorter due to an increase in the price of fabric and social changes.  The bright green heel on these shoes show that as skirts became shorter shoes became more elaborate.  As the label shows they were made in Paris for the Newcastle department store Bainbridges.
1920 – TWCMS : H16973
These shoes made of silk brocade show that after the war shoes styles became much brighter and highly decorated.