My name is Olivia Turner and I was artist-in-residence at the Great North Museum: Hancock (GNM:H) during the recent 'Bones' exhibition. I am currently a Fine Art practice-led PhD student at Newcastle University making work around the theme of the body, skin and what lies beneath.
During my residency, I was situated in the 'Learning Zone' in the middle of the exhibition, where I transformed the space into my working studio for three weeks. This was a great opportunity to experiment with different art materials and respond to the exhibition, collections and visitors at the GNM:H.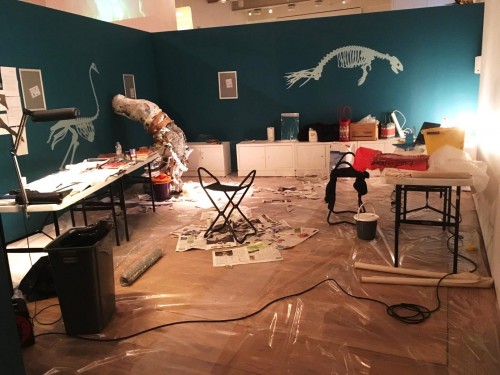 I also spent some of my time in the GNM:H library which houses beautiful anatomical illustrations of animal and human bones, depicting both healthy and diseased specimens.
Using all the research conducted during my residency, I was strongly influenced by the structure of bones and the body, particularly in the way our mouths and fingers communicate by using simple gestures. I created a series of drawings exploring these ideas.
Whilst exploring the exhibition, it became clear that the children and adults would all point at different display objects, as if to say 'What is that?' or 'Wow, look at that'. The gesture of a pointed finger goes beyond words and communicates a need to know more or to observe something. I decided to translate these ideas into a sculpture and began creating a giant finger.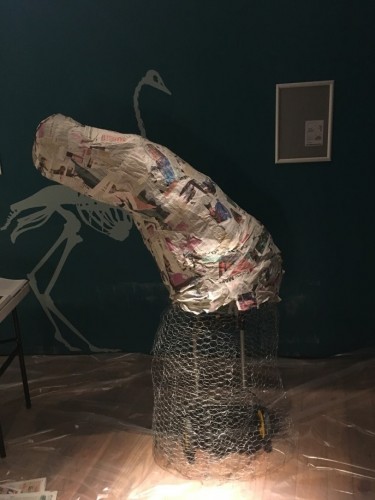 The foundation of this sculpture was a metal armature that I then layered papier mâché onto. I was not able to complete this sculpture in the time frame of my residency but ultimately I would like to finish the sculpture in plaster. The plaster will not only make the finger look as though it is constructed from a bone-like material but it will also become monumental, rooting itself within the history of sculpture, of replication and plaster casts.
A personal highlight for me was the toddler group that visited my space where they created a song about their fingers, using their hands to gesture and point at my artworks whilst also using their hands as binoculars. I was inspired by this child-like idea of 'hand binoculars' and your fingers as two holes to see through.
I created a drawing, photograms and a series of sculptures around the idea of your hands being alternative eyes. I think this concept challenges the vision-centric interaction in museums and galleries, emphasising the importance of tactility and non-visual modes of perception.
My residency at the GNM:H provided a stimulating space for generating and testing ideas, as well as creating artworks. It was a fantastic opportunity and I look forward to finishing off my sculptures and continuing my PhD research.